Kite foiling course in Malcesine by Stickl Sportcamp
Kitesurfers fly on hydrofoils at only 2 wind forces with 30 KN speed in light wind conditions, while the classic kiters don't even think about setting up a kite yet.
Wie beim Segeln fasziniert das unglaubliche Erlebnis bei einem leichten Lüftchen abzuheben und As with sailing, the incredible experience of taking off in a light breeze and then flying silently at crazy speed, running extremely well upwind and thus having real fun on the water even on days that were previously "no go" days for kiting.
As always at the beginning of a new development, there is talk of "dangerous" and too fast etc.. It was no different 40 years ago with windsurfing, and the first kitesurfers were also eyed suspiciously.
Foilkiting is nothing less than a new era in kitesurfing, because it makes kiting possible from 2 wind forces but also at 7 wind forces and more.
Es wird immer Kiter geben, die in der Welle stylen wollen, aber es gibt weit mehr Leichtwindreviere There will always be kiters who want to style in the waves, but there are far more light wind spots than great spots with wind and waves. We believe in this development and want to give all kiters who are on level 4-5 the chance to get into this new sport.
The safe introduction to foil kiting is only possible with professional instruction by radio and a safety boat. We rely on the DUOTONE-FOIL, ideal for the introduction to foiling.
To the course
To the request
Voraussetzungen
At least VDWS kite level 5 and kite experience.
Driving experience on a directional board is recommended
Who is your instructor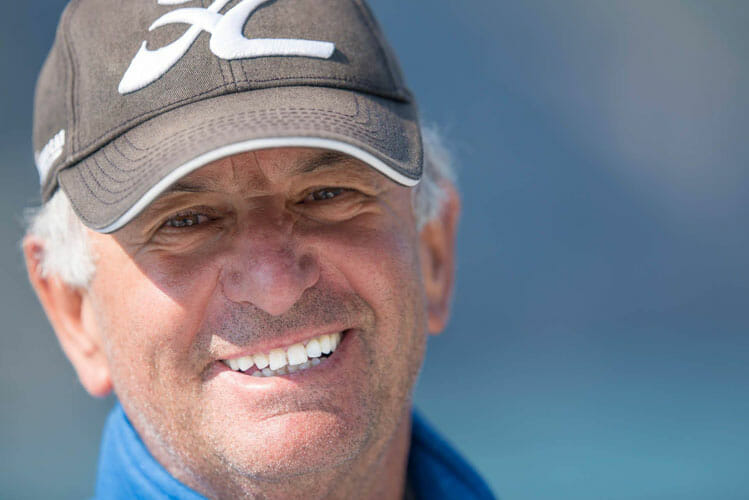 Since 1976, one team has been passing on its experience to the next. New employees are trained into a proven team in good time so that they are then fit for the "changing of the guard". In this way, each team grows with the experience of the "old ones".
The technical skills in surfing, kitesurfing and sailing are of course constantly improved by the possibility to train in optimal wind conditions. Team training sessions and daily briefings guarantee a uniform system and contents of the courses.
What to bring
Services included
Wetsuit
Life jacket
Harness
New 2022: BEACH HOTEL ROSA
The "Stickl Hotel" on the lake, right next to the sports camp station on the beach is the best choice for our course participants. The Beach Hotel Rosa in absolute 5-star top location directly on the beach next to the sports camp offers Watersport & Relax at 3 star prices. The public is active in sports and appreciates the comfort of living directly on the water – from bed to board. With restaurant, pizzeria and bar, the Rosa Beach is also the meeting place after the sports session.