Cat classes for beginners, advanced and perfection
Stickl Sportcamp is the biggest VDWS cCatamaran Center in Europe.
We are in the fortunate position to have founded our sports camp in 1976 in what is perhaps the best sailing area with a unique wind safety. The variable wind conditions between the bay Val di Sogno, our location and the open area in front of it with the famous Garda winds ORA and VENTO make it possible to often teach courses of different levels at the same time. The coach chooses the best training time and spot for his group, guaranteeing the best training conditions.

The Cat fleet with the entire range of Hobie Cats, from the Kindercat Teddy to the Hobie Cat 16 in the F courses to the F 18 Wildcat and Tiger is unique! And all in best quality! At the Hobie World Championship at Lake Garda, one participant took 5th place with our rented Wildcat.

The Radio Training System is a proprietary development that has given us a considerable methodological edge. Direct correction by radio guarantees optimal training and creates a great sense of security for the students.

In closely graded course levels, all guests find the right course and are taught by motivated professionals. We constantly invest in the training of our team and enjoy the reputation of being the competence center for cat sailing, even among competitors.
"For cat sailors we are the first address for many years! Nowhere is there more quality! A huge Hobie fleet, a graduated course system with radio training and above all an absolutely competent trainer team. Reason enough to sail at Sportcamp again and again!"
Cat courses
Beginner 1
Absolutely no experience with water sports
Previous knowledge through surf course or own surf experience
Sailing courses longer than 2 years ago and no practice after that.
Sailing on dinghies and keelboats
sailing along on charter trip
Little experience sailing on keel yachts
Cat taster course
Sailing on Catamarans
Advanced course 1
Experience through dinghy sailing course and subsequent practice
Many years of sailing experience on dinghies and small keelboats
Cat beginner courses in holiday clubs
Cat practice in low wind without harness.
Advanced course 2
Experience as helmsman on planing dinghies with trapeze at 3-4 Beaufort
Beginner cat course at the Sportcamp and afterwards several days of sailing practice
Several beginner courses spread over years without own practice afterwards.
Cat practice in wind force 3-4 with foresail harness.
Perfection course 1
Cater experience through several F-courses in sports camp or / and sailing experience
Routine in wind force 4 + with helmsman trapeze and double trapeze
Physical requirements for strong wind sailing (condition, strength and agility)
Perfection course 2
Cater experience with Genacker on Pearl in P-Course
Cat experience on F18 Cats or F16 with double trapeze and Genacker
Perfection course 2 "Special"
At least one perfection course 2 with genack sailing
Sailing practice on sport catamarans with genackers.
Experience on skiffs and gliding dinghies with harness and genaker
To the courses
Who is your instructor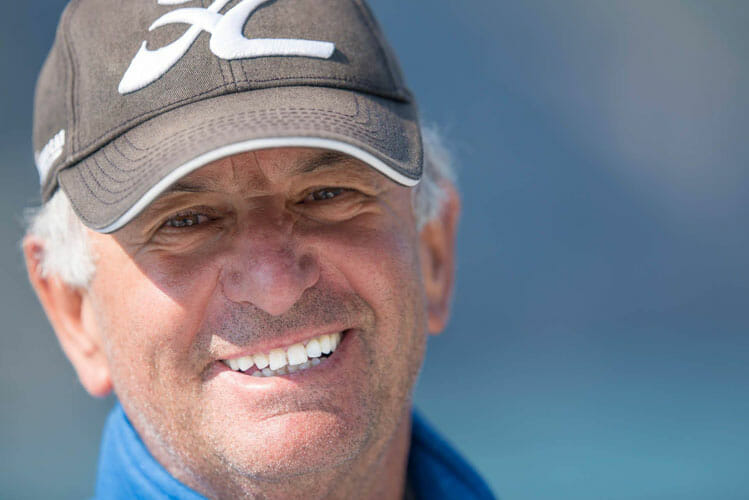 Since 1976, one team has been passing on its experience to the next. New employees are trained into a proven team in good time so that they are then fit for the "changing of the guard". In this way, each team grows with the experience of the "old ones".
The technical skills in surfing, kitesurfing and sailing are of course constantly improved by the possibility to train in optimal wind conditions. Team training sessions and daily briefings guarantee a uniform system and contents of the courses.
What to bring
Services included
Wetsuit
Life jacket
Harness
New 2022: BEACH HOTEL ROSA
The "Stickl Hotel" on the lake, right next to the sports camp station on the beach is the best choice for our course participants. The Beach Hotel Rosa in absolute 5-star top location directly on the beach next to the sports camp offers Watersport & Relax at 3 star prices. The public is active in sports and appreciates the comfort of living directly on the water – from bed to board. With restaurant, pizzeria and bar, the Rosa Beach is also the meeting place after the sports session.