Canyoning Palvico is one of the most impressive Lake Garda canyoning tours in northern Italy
From € 82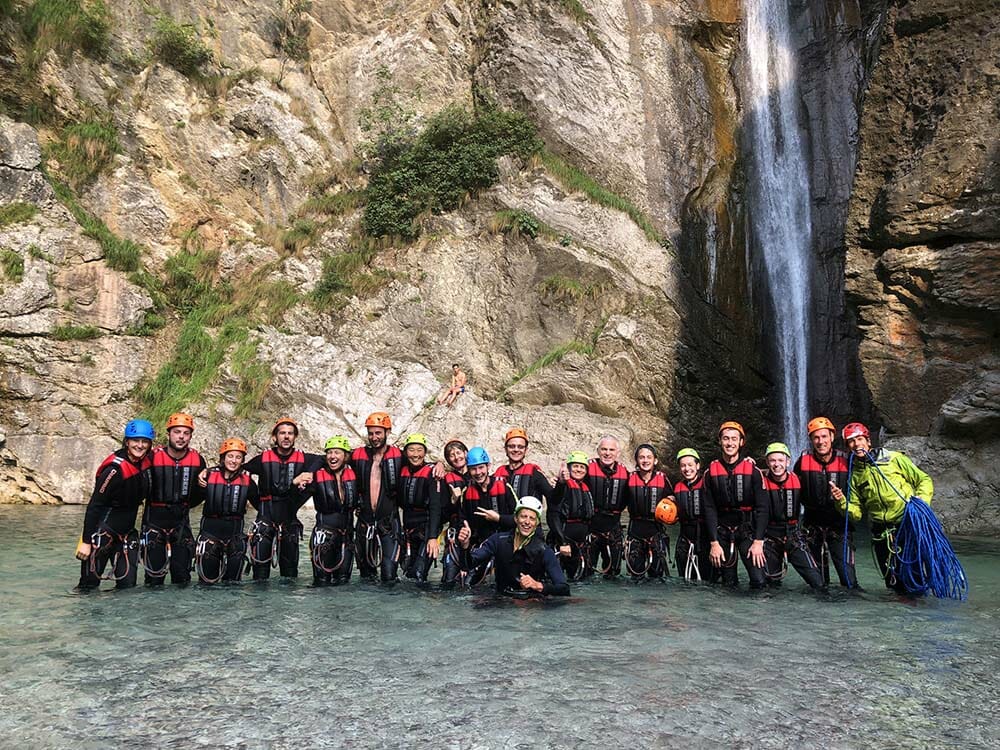 Where

Val di Ledro

Difficulty

Duration

4 hrs

When

Every Tuesday, Thursday and Saturday at 2.00 pm

Language

English, German, Italian

Landscape

Adrenaline
Steep, towering rock walls, enchanted caves, crystal clear water, mystical light and shadow play. Canyoning Palvico is one of the most impressive Lake Garda canyoning tours in northern Italy.
The canyon in Valle di Ledro has a bit of everything: jumps (up to 3 metres), rock slides and swimming passages, as well as abseil cliffs, the longest of which is a 50 metre waterfall.
Those who do not want to jump will be rappelled down.
Why Canyoning Palvico:
Canyoning Palvico is – despite the same duration – more demanding than the tour through the Canyon Rio Nero. The reason why is that there are hardly any possibilities to get out of the canyon, the higher cliffs and therefore the more mystical atmosphere, the colder water and the very long abseiling section. You do not have to walk.
Who is accompanying you
Nice to meet you, I'm Mauro, International Alpine Guide UIAGM. I live in Arco since 2001 and in that very year I opened my Alpinism school Mmove (former Friends of Arco). For several years I've been living amazing adventures from the Alps to Patagonia, till the high peaks of Karakorum, following or opening new routes on these wild peaks. My goal now is to share my enthusiasm for the mountain with my guests.
I'm very proud of all my collaborators and my high qualified local Alpine Guides. Mmove is not just an Alpinism School but also a bunch of friends that wants to give you great experiences. We like to Mmove it!
Procedure
The participants take our minibus from Arco, Torbole or Riva del Garda to reach our canyoning centre at Passo Ampola and where they get changed. Wetsuits and technical equipment will be provided by us.
The tour continues by van to the starting point of the canyoning
After the briefing we will take the first jump into the Palvico river.
The van awaits us at the end of the tour.
Meeting point and transfer
During the booking you can choose the following meeting points:
ARCO via Legionari Cecoslovacchi n°14
GPS 45.927168 10.891491
8.00 am – 2.00 pm
TORBOLE
Via Gardesana n°23
GPS 45.877026 10.868846
8.10 am – 2.10 pm
RIVA DEL GARDA
Viale Rovereto n°136
GPS 45.878649 10.856839
8.15 am – 2.15 pm
PASSO AMPOLA
c/o hotel Ampola Via Strada per Tremalzo n°6
GPS. 45.864386 10.646180
8.45 am – 2.45 pm
The shuttle leaves sharply at the times indicated on the website and on the voucher. We recommend you be at the requested meeting point at least 15 minutes before the indicated time.
Necessary skills
Don't be afraid of water, height and rather closed spaces
Minimum weight 40 kg
Good physical shape especially for the first stretch where you walk in the river on very slippery and rough ground
What to bring
Trekking or gym shoes (NO sandals, NO water shoes we supply neoprene shoes)
Swimsuit
T-shirt (to be worn under the wetsuit)
Towel, underwear change
Sweatshirt
Face mask (covid-19)
Services included
UIAGM mountain guide with specialization in canyoning
Neoprene wetsuit and shoes, helmet, harness, life jacket
Transport
RC insurance
Extra on request
Action Camera rental including SD card: 20 €