Kitesurfing at Lake Garda according to Aaron
Malcesine
26.07.2015
Interview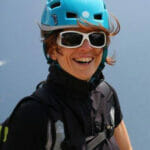 Text
Angela Trawoeger
Creator, photographer and content manager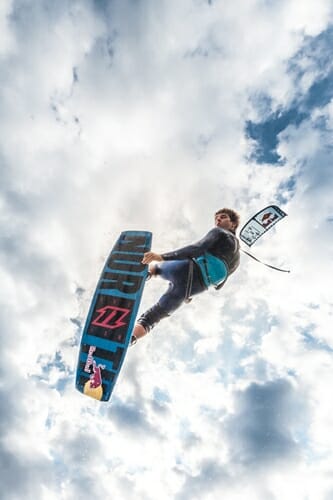 Five times world champion and the last winner of King of the Air Aaron Hadlow was at Malcesine on the 25th and 26th of July. Hadlow is the man who has taken Wakestyle to its current level and is the role model for every young freestyler. He was in Malcesine together with Gianmaria Coccoluto, two times Italian Champion and Vice-European Champion.
They were in Malcesine to present the new Vegas North 2016.
The two days were organised by North kiteboarding and Corner, the new Pro Shop for North in Malcesine.
The first day took place on the beach in Navene at the KiteClub where Gianmaria and Aaron gave a great show on the water using the new Vegas 2016. On the beach were tests of the 2016 North material, from the Vegas to the Dice and the boards.
The first day finished in the evening at Corner with a party and DjSet.
On Sunday, after a photo-shoot with Angela Trawoeger at Easy Kite, the official Malcesine North centre, Aaron and Gianmaria visited the other two official North centres in this area, CKM in Marniga and the Kite Center Garda Lake in Navene.
We spent two great days with them, both really nice guys. They were only with us for a short time but we, 360gardalife, were ready to make the most of the occasion by asking them how things were going. We also asked them how they found kiting life on Lake Garda, in two places that they perhaps didn't know before, especially on Sunday morning where they left from the rubber boat provided by Easy Kite (thanks Greg and Giulia) right in front of the small town of Malcesine.
Here's the interview with Aaron.
How old?
I'm 26
Favourite kiting spot?
Cape Town
How did you start kiting and who got you into the sport?
I started flying my dad's kites on the beach when I was 10: he came from windsurfing but switched went he saw the potential of kiteboarding. A year later, when he thought I had enough kite control, he took me on the water: I picked it up really quickly and loved it.
What is your favourite combination of kit and how is it being a sponsored North Kiteboarding kiter?
I always use the kit that is specific for wakestyle and freestyle, and this means that I have a high performance that is very stable. I need a kite that can jump high, turn quickly and that is stable for kite loops and most importantly has propitious that are good for unhooked tricks.
This means I use the Vegas and Hadlow boards, both of which I helped North to develop. Signing with these guys has been one of the best decisions I have made. The company runs like no other, they are always ahead of the game, their products and professionality are second to none and I love working with everybody involved.
How about the new North kite for 2016?
In 2016 we worked hard on the new equipment. I am really pleased with the whole range. I don't get to fly every kite and ride every board but I use a lot of them and I know the effort that goes into these designs is the same for every product.
Everything looks amazing this year in particular, and the products that I am using have been seriously upgraded. We never settle with a design: we always feel there is room for improvement.
My new board is the best thing I have ever ridden. I am really happy that they could take my info and turn it into what it is. As for the kites, sometimes it only takes some little tweaks. 2015 saw a dramatic change for the Vegas from its previous model, and in 2016 we have taken the best parts and improved its performance and feel even further.
How do you motivate yourself to go in the water every day?
I am motivated because I love the sport and want to push and prove to myself that I can be the best at what I do. I get motivated by the feeling of progression and learning new moves. What I get to do is special and to have the chance to compete at the highest level is rewarding.
How is the season so far?
Since injuring my knee the road back to the top has been tough: the level is very high and there are a lot of guys in the category of having the chance to win an event at any one time. I have been between 2nd and 3rd for most of the season and won the most recent event. I've been climbing slowly through the ranking year by year – 5th in 2013, 3rd 2014 – hopefully I can get on top by the last event this season.
Do you have any rituals or stress reliefs before you do a race?
Not really I am just fully prepared and make sure that I can focus on my riding and not worry about kit or anything else going on around me. I don't do anything in particular but for sure I am a bit quieter and more focused during the day of the competition.
Any objectives for 2016?
Last year I was making my way up through the Ranking but got an injury in Brazil that ruined the end of my season. I hope to stay fit and look after my body so that I can practice hard for 2016. The event schedule is really disappointing this year and we do not know how many events there will be left. I will do my best with whatever opportunities I have but I have already started to prepare for next season so that I can challenge for 1st.
Do you feel pressured by new talent?
Yes, but it is good.
I was the same at 18 and now there are two young guys that are at the top. I am the oldest out of the guys at the highest level on tour but age doesn't matter; you just have to look after your body. To stand between a 17 and 18 year old at 26 on the podium in Germany is a good achievement. I kite with and see Liam Whaley a lot in Tarifa between events and it is motivating to ride with him.
How do you get on with Gianmaria? Is it the first time you have met?
I have seen him around and think he is doing very well. His level is high and over the time I have known him, he has improved. It s great to have him on the team at North Kiteboarding.
How have you found the welcome and Italian kiting scene in general?
I think it is great. The spot I visited in Lake Garda was very unique and incredible to see how many people are kiteboarding there. Everybody was good fun and welcoming which is great when you visit a new place. Marco Baiocchi has experience as an athlete so he knows how it is to travel, and this helped make my stay smooth and fun.
There are many differences between the sea and the lake – no sand, fresh water, Rubber boat lifts… how do you find this?
I really like to kite in fresh water away from the salt and sand. I like to launch into an open area on the ground though. It can be a challenge to launch from a boat. It was very normal for the guys in Lake Garda and their experience with this was incredible and made it so easy.
How do you like the afternoon Ora and morning Pelèr winds?
It was amazing to see the wind come from both direction and know that this happens on a regular basis!
I do not know a place that you can predict kiteboarding with 2 wind directions in one day.
With the morning Pelèr Wind, you need to be up early – some find this traumatic but then you find yourself in the middle of the Lake and the sun rises over the mountains… how was this for you?
I also do not enjoy kiteboarding right out the bed because I need good rest to recover my body and time to wake up and get my muscles working well: risk of injury is high, but sometimes this is part of the work and you manage it.
At first it can be hard but once you are on the water it can be amazing, especially in Lake Garda: you see the sun rise amongst incredible mountains and for this it is worth getting up early!
What have you enjoyed most during your two days in Garda?
I enjoyed the beautiful location and scenery the most.
What would you suggest to anyone coming to Lake Garda to go kiting?
Yes if you are in Europe and not near the ocean or beach this place is great; it is hard to find places that are land locked with good wind. It is really unique and great to kite in this spot.
Will you come back to see us again?
I hope I will get the opportunity to visit again.
Thanks Aaron and good luck for everything! It was a pleasure having you here with us.
Thank you all guys.