Holidays at the lake: small villages, lots of nature and even more sport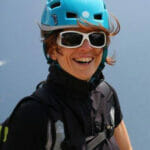 Text
Angela Trawoeger
Creator, photographer and content manager
#3 Covid-19 – May 18, 2020
The new section with updates on post-Covid-19 reopenings. How to enjoy Lake Garda in safety: which sports, where, how and with whom.
Hi,
how did the first two weeks of the phase two go?
We went back to walking in the mountains and in the saddle on a MTB; someone chose a road bike and enjoyed the via Gardesana free from traffic and with clean air. Even the wind hasn't been lacking and people had fun in the water with windsurf, kitesurf and sailboats. We didn't miss a thing, not even paragliding. Malcesine's cable car and the Paragliding Club's landing recovery service are still closed but we went up to the take-off on Monte Baldo by foot from Malcesine.
Returning to outdoor sports was beautiful and we hope to see you again here soon because Lake Garda is really beautiful during spring. Very beautiful. Wow.
Phase two bis, Lake Garda restarts
From today, May 18th, the shops, the bars and the restaurants will reopen. MTB shops and rentals have already been able to reopen. Alpine guides and mtb guides also return to the mountains. In safety and with small groups. The Fraglia Vela Malcesine, the first kitesurf schools and the kite club Malcesine reopened and between the end of May and the first days of June also the windsurf and sailing schools will.
We are really looking forward to seeing you again and it feels like we are experiencing a new beginning of the season, only a few months later.
For sports, what we have already written in the first article of this section remains valid:

"It's not mandatory to wear a mask during effort in sport activities but it has to be worn as soon as you stop or if the required distance can't be kept. You have to keep with you a sanitizer gel or disposable gloves."
During the first two weeks it was possible to stay outdoors only for the time required to do sport. Now we have entered a more permissive phase that allows us to remain outside without limitations, respecting the rules we all know well.
Mountains
Still no news for the cable car Malcesine Monte Baldo, but we are sure that they are making every effort and more to open as soon as possible.
In the update some days ago we also grouped the recommendations and the rules about the new way to enjoy the mountain published by the Club Alpino Italiano, the Soccorso Alpino and shelters owners.
Sport with friends
From May 18th you can meet your friends too. There are no limitations on numbers but gatherings are forbidden and you have to keep the safety distance and wear a mask.
Small villages, lots of nature and even more sport
We have so many paths and we can do so many sports that, with a little common sense, it will be easy to have fun and enjoy the environment of the lake and mountains while maintaining safety distances. It is an invitation to have fun outdoors trying a new sport or to try less travelled but no less beautiful.
We are looking forward to meeting you
On June 3rd both regional and national borders will open and there will be no more quarantine requirements for those entering Italy. The other europeans states set June 15th as reopening date; maybe they will make this earlier?
What will you do? We hope you will come to meet us!
Let's keep in touch
Soon a detailed article about MTB will be published: where and how to go by bike, both alone or with a guide; which are the new rules for the rentals and the bike shuttle?
Next will be paragliding and kitesurf. Climbing, via ferratas and canyoning. Sail and windsurf. We will get back to you to you as soon as we have reliable news. You will find them here.
In the meantime subscribe to the newsletter and continue to stay together on facebook.
Last update: May 18th 2020, 10:00.