On September 10th, 2023, we cleaned up the beaches and paths of Torbole sul Garda
Torbole sul Garda e Nago
23.09.2023
Environment
40 volunteers, 3 groups, 10 kilometers covered, 120 kilos of waste collected.
On a sunny Sunday in early September, forty of us gathered at the Panorama car park in Torbole sul Garda to get to know each other and split into three groups. How nice to see so many old and new friends from northern Italy and Germany ready to do their bit with a smile. Daniele, aged 3, was the youngest participant.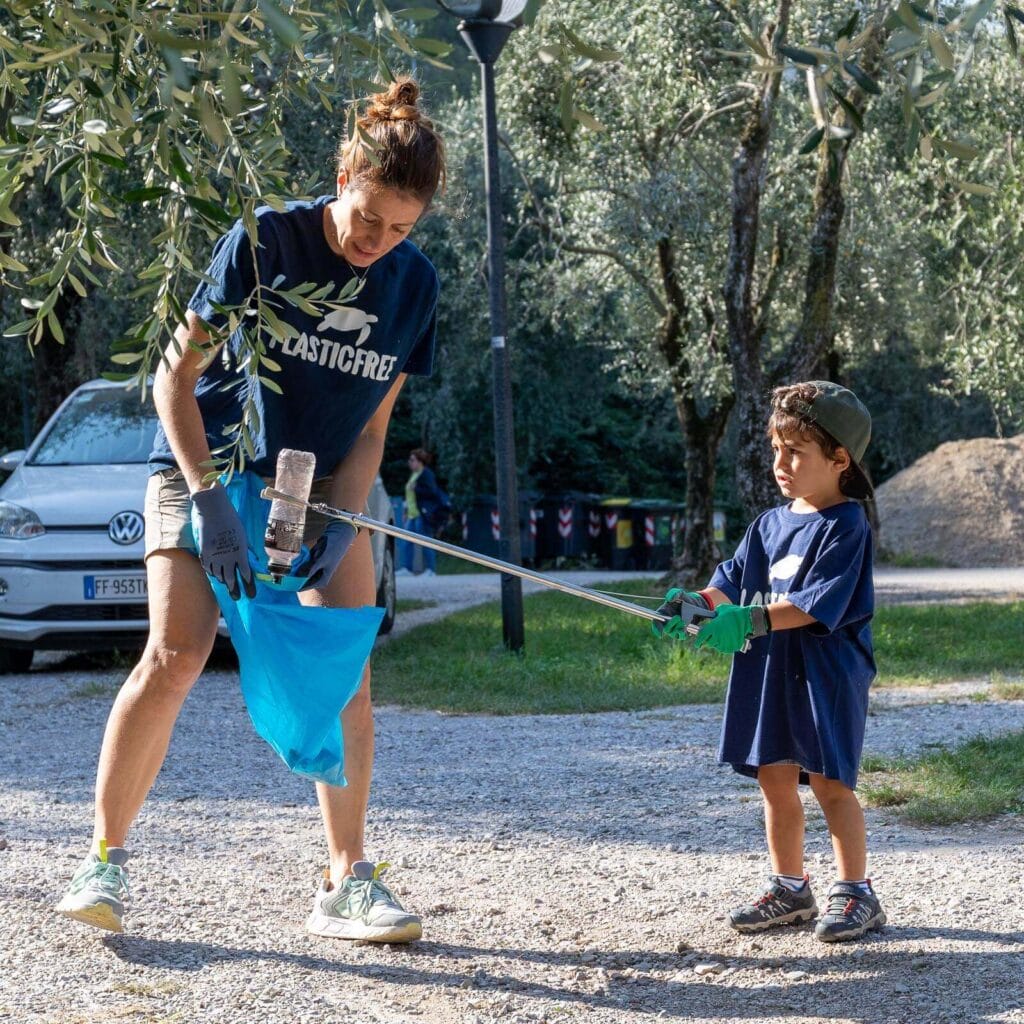 Helping us for this first edition were Jessica, Rosalba, and Martina, Plastic Free's contact persons for the Trentino Alto Adige region. Plastic Free is a volunteer association founded in 2019 that aims to rid the planet of tons of plastic that devastate our ecosystems and our health. Plastic Free is independent, apolitical, and, like us, believes that we can all make a difference together.
The first group, led by Irene, took care of the parking lot and the church, then went down the alleys of Torbole and cleaned up the old town and the beach by picking up trash among the breakwater stones to the boat dock. They returned with glass bottles, cans, cigarette butts, wrappers, and a shoe covered with moss.
During the collection, passersby stopped to seek information and thank volunteers. This reaction amplified our message of environmental awareness, demonstrating that the efforts of a few can inspire many to join together for a cleaner, more sustainable future.
The second group, led by Matteo, climbed to Busatte Park along the driveway and cut into the woods to a very scenic large flat boulder, convenient for a break, along the access path of the famous Busatte-Tempesta Scenic Steps. We always get a little bitter to find so many bottles thrown into the woods at one of the most beautiful scenic spots on the trail. This group found two pallets, plastic sheeting, bottles, cans, tissues, plastic of all kinds, and cigarette butts.
The third group, the one with Giacomo as the contact person, went up the trail from Torbole to the Marmitte dei Giganti and the scenic parking area on the SS240 that connects Torbole to Nago. The group arrived at the parking area with a bike rim, rusty irons, and bottles. The bulk of the rubbish was found there: bottles, cans, tubes, tissues, and cigarette butts by the handful were picked up as passersby took a photo with Torbole and Lake Garda in the background. Giacomo also collected a white plastic chair in the grove behind Nago's Forte Alto.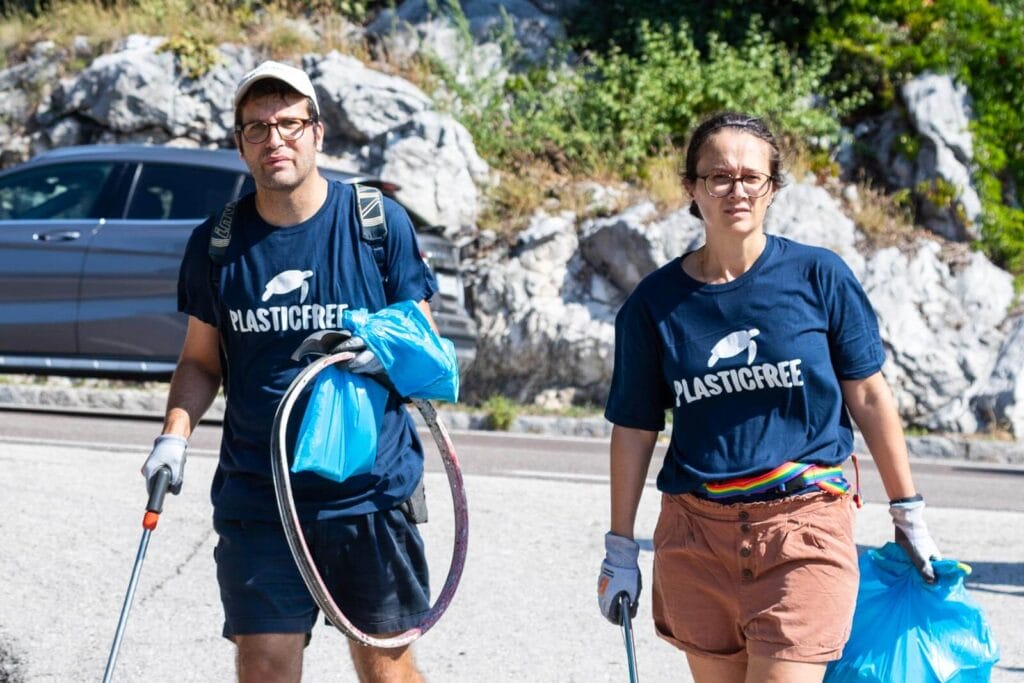 Cigarette butts are made of cellulose diacetate, a NON-biodegradable plastic material that breaks down into microplastics and remains in the environment forever.
Did you know that cigarette butts contain over 4,000 chemicals, many of which are toxic and carcinogenic? A single cigarette butt can contaminate up to 1,000 liters of water. These small amounts of waste are swallowed by birds, fish, and turtles that can eventually die from suffocation or toxin poisoning. All of this impacts not only the marine ecosystem but, through the food chain, our health as well.
At noon, we met at the Panorama Parking lot for the group photo. After sorting the waste, we went up to Busatte Park for the volunteer lunch we provided and for the yoga class offered by Paola Ruffini to reconnect with nature after relieving it of waste.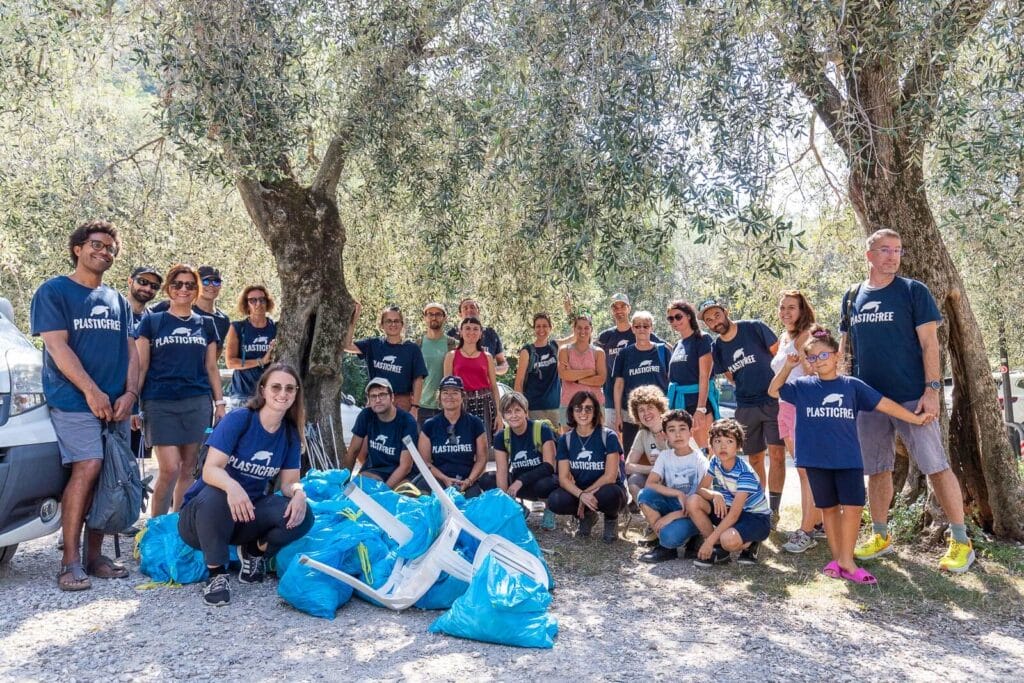 We saw so much eagerness, a sense of usefulness, outrage, and desire for change, and then so many smiles and gratitude for what we accomplished together. Alice and I also felt a little proud for bringing so many people together to clean our beloved trails.
Do small individual actions count?
Yes, and we proved it with the first 360 Path Cleanup along the beaches and trails of Torbole. Together, we can make a difference, one step at a time.
And if you think about it, it can apply to everything. For a piece of trash you pick up off the ground, for some single-use plastic you refuse to buy, for a mile you walk instead of drive.
Just as the ocean is made of drops, humanity is made of people. And you are one of them.
Next time you think it's too late and you can't do anything, think about what just 40 people managed to do in just over 2 hours.
Thank you, thank you, and thank you again to those who participated, those who would have liked to come, and those who decided they wanted to do their part every day as they could.

We look forward to the next edition.
Angela and Alice
Sign up for our newsletter
Sign up for our newsletter to stay up-to-date on our ecological initiatives and outdoor sports like Lake Garda. We deliver each month to your inbox.
The first edition of the 360 Path Cleanup is supported by: