A life dedicated entirely to the wind, boards and waves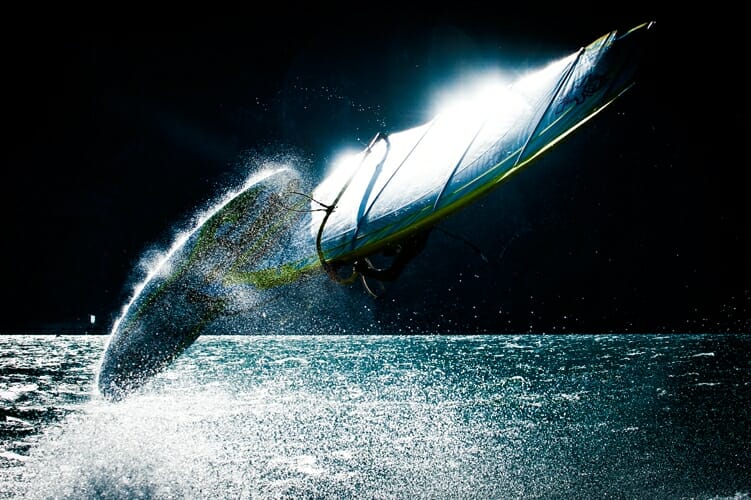 From when he discovered windsurfing, Fabio Calò has lived a life dedicated entirely to the wind, boards and waves. All his free time is dedicated to windsurfing which now has become also his work… and to think that he came across windsurfing just by chance.
Fabio Calò, 32 years old, discovered windsurfing by chance at 15 when a family friend gave him an old board.
It was one of those old long boards that has since been replaced by more dynamic, lighter boards. But to young Fabio it was enough to see his instructor flying off the waves in Arma di Taggia to decide that he too could achieve the same level of skill: after overcoming the usual initial difficulties, he was rewarded with his first windsurfing success.
The debut of a champion
In 2000, despite the bewilderment and teasing of his friends, Fabio decided to participate in his first Wind Festival at Imperia, with little hope of winning but high hopes of having fun. Here he was noticed by various sponsors. This was the first of a long series of competitions in some of which he did well: fourth at the Italian Freestyle Championships in 2004, 2005 and 2006, 12th in the European freestyle Championships in 2005 and 2006, 2nd at the Wavemasters in Sardinia in 2007 and at the Shaka Bump&Jump (Lake Garda) in 2009, 3rd at the Italian Wave championships in 2010.
Over the years Fabio developed a preference for speed moves such as the aerials called for in freestyle and the speed gybes of Slalom. He grew bored with slow moves, even the very technical and well performed ones, because they "weren't put beautifully choreographed".
The World on a Wave
During his university years, Fabio had the possibility of travelling to the most beautiful and challenging windsurf spots on the planet: he spent every summer in Tenerife in the Canary Isles. From when he started competing and when he turned professional his favourite place became South Africa where he subsequently spent each winter. Other places that he has visited "sadly, only once", include Diego Suarz, a wonderful village on the Emerald Sea to the north of Madagascar, and Australia.
Surf on the Map
When Fabio finished university, windsurfing became not only his sport but his job. As well as being chief editor of Funboard windsurfing magazine from 2007, he also manages the magazine 'SUP Time'. With these jobs he also enjoys the flexibility that allows him time to windsurf at Lake Garda (wher he has been living for seven years) and to visit his favourite surf spots in the South of France and Liguria. Quick windsurf excursions don't have a great impact on his work especially as, once off the water, Fabio is immediately reconnected to his phone and laptop!
Future projects
Fabio hasn't yet given up competing: in fact, he gained 3rd place in the last Italian Wave Championships. In the future, he's aiming to conquer the Overall Classification, recently established, where total points from the established disciplines of Wave, freestyle and Slalom are united. There aren't many windsurfers in Italy who have the alround ability to compete in all three disciplines – in fact, possibly only 3 or 4 people.
For Fabio, it's not enought to participate… he wants to win!
FABIO CALO' ITA720
(Starboard, Neil Pryde, MaverX, AL360, Pat Love, ProLimit, Lizard, Smith, Fox)