We talk about it with Angelika from Garda Air Style
Malcesine
20.06.2019
Interview
There are new paragliding pilots in Malcesine: Angelika and Tobi from Garda Air Style.
Angelika is full of energy, she is a sunny person, a positive one, empathic and determined. You should see her smiling eyes when she talks about paragliding. Angelika gets new energy every time she takes her feet off the ground; she breathes life, the real one, and knows the taste of freedom.
Inside Garda Air Style there is all her world, her personal idea of paragliding. Feeling free makes happy and she would like each of us to feel that way while flying with them.
Hallo Angelika, where do you come from and when do you first have been in Malcesine?
I'm from Hannover, way up north in Germany. Kind of a Viking in the South by now. September 2014 was my first contact with Malcesine working spontaneously behind the camera for a SIV paragliding training.
How and when did you start paragliding?
Precisely after these first video shootings for paragliding safety trainings I got hired for the full next season in 2015. So I was surrounded by paragliders all over. After a few tandem flights as a passenger with some of my colleagues I was so fascinated that I decided to learn paragliding myself. I felt a deep need to be in the air also all on my own, to be free. My very first solo flight then was from the top of Monte Baldo to Malcesine. Even now I remember every detail of this amazing flight!
How to become a paragliding instructor or tandem pilot?
Invest a whole lot of time and money in trainings and pass the exams. In my case the setting was more than perfect with working for a paragliding school at safety trainings at Lago di Garda surrounded by highly qualified instructors. This scenario made it possible to get very far in short time and of course all my experiences in other sports as successful athlete or instructor. Time to say thanks to my mum and all the people who helped me to became what I am.
Why is paragliding so beautiful?
Because you escape your normal surroundings. You are able to look at the world from a total different perspective. It creates great feelings and you start to realise that we all are a small part of a great unknown. It's a sensational experience. Especially, because it feels so good being easy and free… it's all about freedom, literally.
What is so special on a tandem flight from Monte Baldo to Malcesine?
Definitely the panoramic view. This fantastic view from 1800 meter altitude over Lake Garda is simply breathtaking. Also the change of sun and clouds creating different colours every moment, the alpine world on top of Monte Baldo with marmots, chamois and eagles. And all of a sudden you are back sitting with a cappuccino or aperol spritz: an amazing contrast.
Why you decided to come to Malcesine?
Because of the climate, the people, the nature. It's the most beautiful working place in the world.
Tell me about Garda Air Style and the team.
Garda Air Style is the logical consequence of my development as a paraglider pilot. But the ignition spark came by coincidence, if something like this exists. A good friend decided to move to La Palma after 28 years of tandem flying in Malcesine at Lake Garda. He was looking for a qualified successor for his loyal customers and someone who is keeping his kind of spirit in this business alive. I am really proud and thankful that I became his first choice. It's a big challenge, but with the Garda Air Style team I'm very confident that we succeed. Everybody at Garda Air Style are Garda lifestyle freaks and pilots with enthusiasm. In the last years we had so many wonderful moments together here at Lake Garda, on top of Monte Baldo and in Malcesine that we decided to make this our living and life style. I'm looking so much forward to realise our ideas of paragliding. Yes, it's true – we are idealists, but with enough realism to make a dream come true.
On your internet site I read this sentence: "It's about the things we do – not about the things we have". What do you mean by that?
It's the transitory that makes things precious. This is the case in paragliding like in no other sport. Each flight – no matter if solo or tandem – is an unique happening. Conditions in the air are never the same and always different.
This is what makes every moment in air so special, because you will never be able to repeat it. Being aware of this makes you feel more intense. Most material things don't last for ever. Emotions will stay your whole life, if you let them to.
How does a tandem flight work?
You simply sign in via telephone or over the website with your preferred date & time slot. We will contact you and confirm the reservation. The day before your flight we will contact you again to check if you are ready and the weather is flyable. On your tandem day we meet at the bottom station of the gondola and go up together. After a short walk we reach the take-off and you get a short and precise briefing for the start procedure. And then it's time to get airborne and enjoy. We will show you the beauty and variety of Monte Baldo and do some dynamic manoeuvres at the end of the flight over Lake Garda, if you feel like.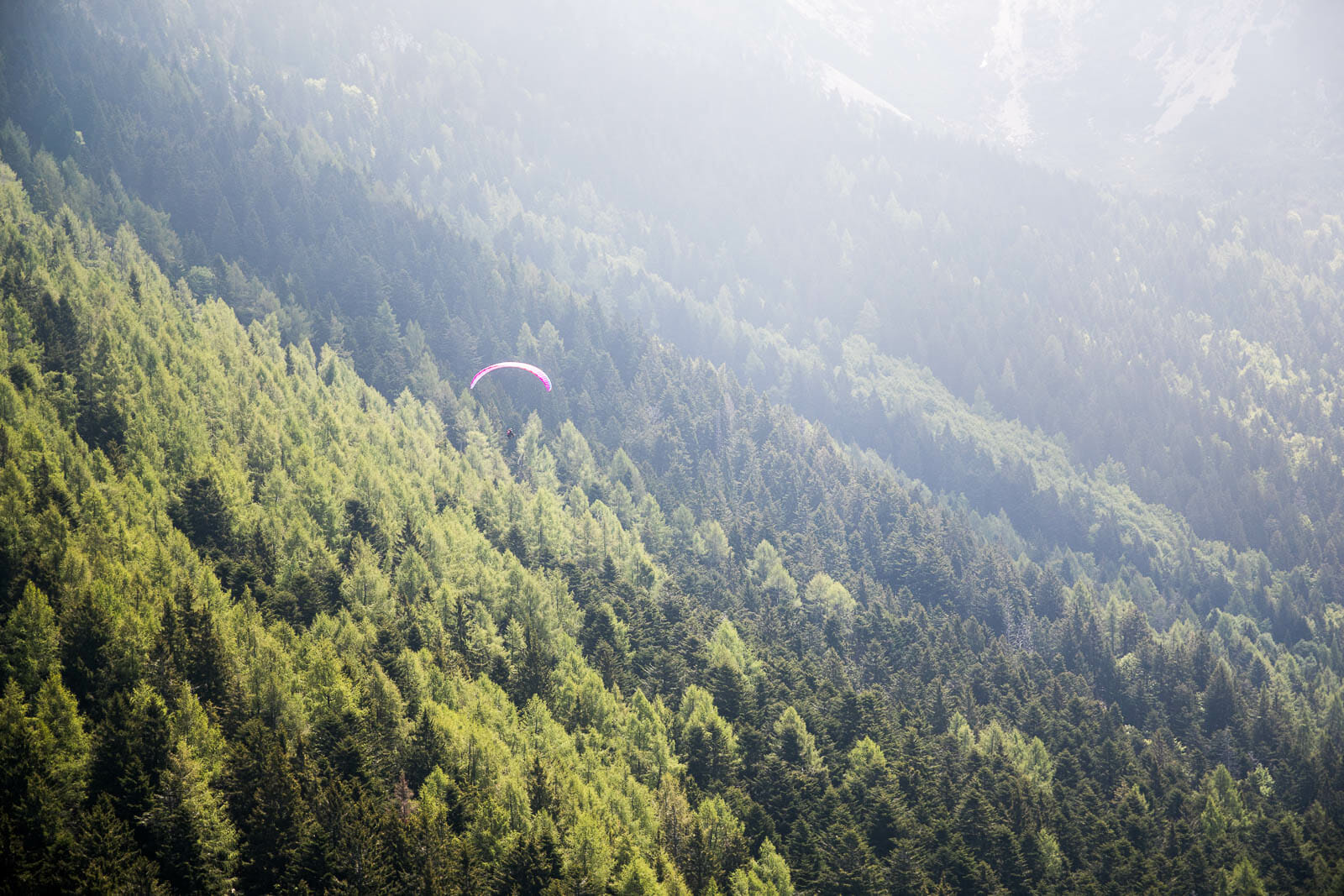 At the landing you get the video of your flight on SD card and have a good drink while we are packing our equipment and join you.
Is it dangerous?
What would Icarus say? Everything that flies can crash down. But probability in paragliding is extreme low. High level flying skills above average and a perfect risk management let us fly safe since years and guarantee a sensational flying experience… when the weather plays along.
Convince me to fly with you!
No! I simply "kidnap" you for an unforgettable experience. Bring two friends with and let's go flying!
Giorgia, Saul and I decided to accept Angelika's invitation.
Here you can read how it went!