A 100 kilometers journey, in just one day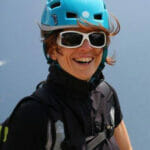 Photo and text
Angela Trawoeger
Creator, photographer and content manager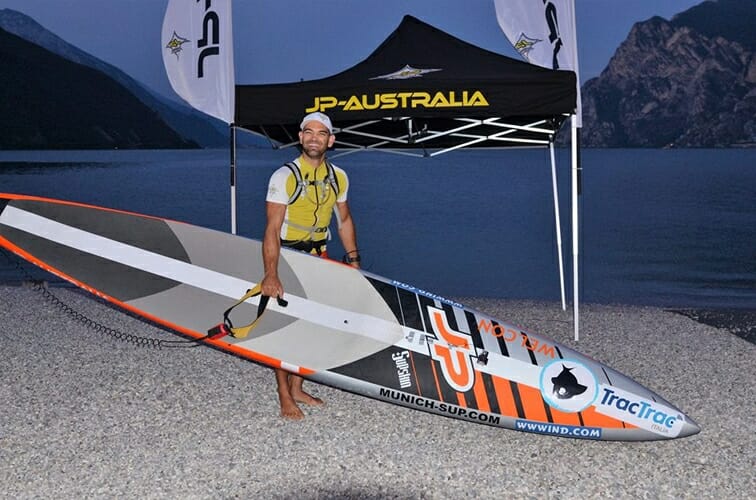 On the third of August 2016, Austrian Sup racer Peter Bartl, from JP Australia team crossed Lake Garda from North to South and back in one day.
Torbole – Peschiera – Torbole: 105 kilometres in 13 hours and 40 minutes.
Hello Peter, tell us something about it.
I left at 5.30-5.40 a.m. from Torbole, at the beginning everything was quiet, then Peler started blowing, around 10/12 knots, it pushed me forward with light, small waves.
Watching the sun rising behind the mountains while standing on the Lake was amazing but at the same time I hoped the sun could stay hidden for a longer time: I knew a really hot day was to come. From Malcesine to Torri the temperature was getting higher and higher, I paddled non-stop for more than 10 hours under the burning sun.
From Torri to Peschiera it was harder, there was no wind at all and the lower part of the Lake was very crowded. It was so messy and crowded in Peschiera, even if everybody was on holiday, there was such a mess! The Lake was full of people and boats were passing really close to me, producing many waves which bothered me quite a bit.
I reached Peschiera in less than 6 hours, I had already covered 53 kilometres and I felt positive.
Coming back was quite complicated, I started to feel tired in Torri and I stopped many times for short frequent breaks. I had food and water with me and I had to ask for supplies at the rubber dinghy just three times.
I was quite unmotivated, I was so tired, I mean, in a psychological sense. I felt physically well, I didn't feel any pain but I was exhausted, I felt too hot, there was no wind pushing me forward.
I reached Malcesine at 18, I took a break at Wwwwind Square to get to Torbole. I paddled the last 11 kilometres to Torbole with a very light Ora, I recognised, at a short distance, the JP flags of the beach of Torbole. I said to myself: I've almost finished, I have made it.
I got to Torbole at 19.20, my paddling took about 13h and 40minutes. I was able to go all the way and back in one day: 105 km with the sunlight. I thought it was going to be hard, and it really was. It all went well, anyway.
Who are your sponsors?
This time I was sponsored by Jp-Australia, TracTrac and Hermann Stricker from Wwwwind Square Malcesine.
Jp-Australia was my sponsor for boards, this time I used an Allwater board, the Downwind 2016 14×25; a wonderful board, it was absolutely the best choice for this project.
TracTrac gave me the equipment to track the trip, online and directly. It was nice for people to have the chance to follow me and knowing that people was following me, live, pushed me to do well.
Watching my trip the following day was also a great emotion.
Hermann supported me the days before the race and he also followed me with a rubber dinghy from a distance during the race. Knowing there was someone there, helping me in case I needed, made me feel safe and stronger.
My other sponsors are: Munich-Sup, Welcon and Supskin.
Why did you choose Lake Garda?
The idea of crossing Lake Garda from North to South has always fascinated me, for me it's an important location: I learnt to windsurf here when I was a kid and I have always liked the scene.
Windsurfing makes me nervous now, as it depends too much on wind conditions: when it's not windy you need the wind and vice versa. Sup is different, wind is definitely a strong factor but it is always possible to paddle.
How is Lake Garda for Sup?
Lake Garda is a super location for water sports. You can do many downwind tours, the weather is warm and you can paddle all year round. Conditions are quite versatile, everybody can find his dimension, and coming to the lake is always worthwhile for Sup paddling.
What would you suggest to someone interested in Sup on Lake Garda?
You should use a wider board than the one I used to cross Lake Garda, especially if you don't paddle so often. It would be better to use a 28-30 inches wide board as they are more stable and it is easier to keep in balance.
At the beginning I suggest to try single and short round tours.
I would not recommend the lake crossing I made. But, for those who feel like trying, I suggest to make longer breaks of more than one day, it would be more enjoyable and less tiring.
Will you come back here?
Of course! I'm planning to come back here twice a year for the downwind courses in Malcesine with Hermann and the Wwwwind Square Malcesine, which offers this kind of courses all year round.
Those who haven't tried Sup yet are fascinated by this activity when watching someone paddling. 90% of the people enrolling on a Sup course is a beginner today but the level of the participants is rising. We are interested in offering a wide range of courses.
I will take care of advanced courses offering downwind Sup courses while beginners can always count on Hermann, all year round.
Any other project?
I have learnt that long tours on flat water is not my thing, I don't like them so much as they are phisically and mentally tiring. I am planning a new important project for the next autumn/wintr season: I want to paddle from Grado to Venice. It's a downwind tour of about 80/90 kilometres with Bora, a strong wind blowing from North-East.Sometimes the wind changes direction and this can be dangerous, I will see if I'll do this with or without sponsors.
Thank you Peter, see you around on the Lake!
Thank you, see you soon.