The easy via ferratas of Lake Garda to start with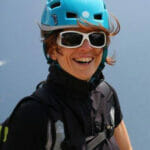 Text
Angela Trawoeger
Creator, photographer and content manager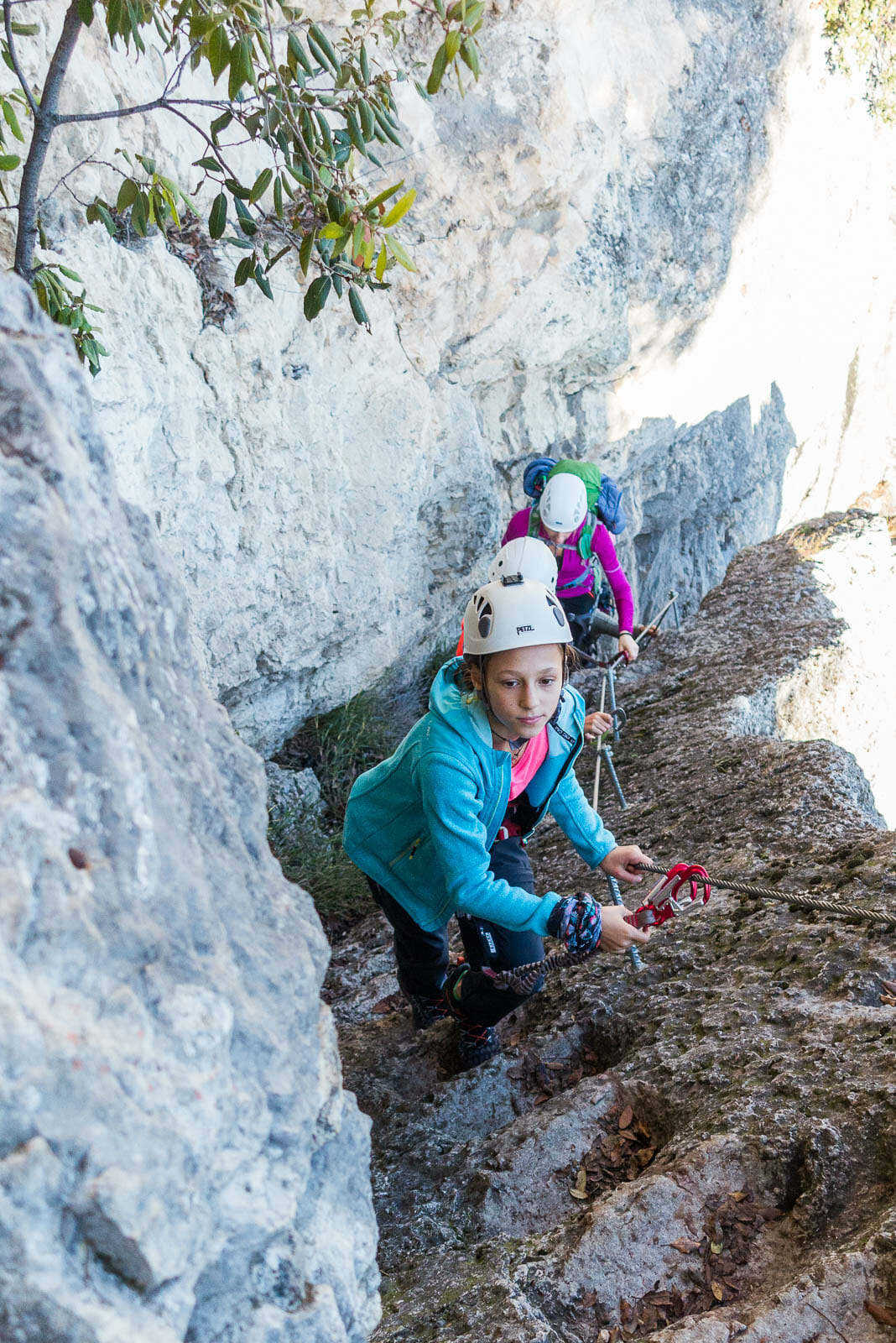 A via ferrata allows you to reach inaccessible places even without a good mountaineering technique; it requires some effort and energy to reach the summit but safety is at the top.
A via ferrata is a route equipped with metal cables, brackets, ladders and fixed anchors that facilitate the access of the summit or to any other mountaineering destination. In safety.
How to climb a via ferrata?
A harness, a via ferrata kit (longe, snap hooks and a heatsink) a helmet, a pair of gloves are what is usually needed for a trekking route and is the mandatory gear to climb on a via ferrata.
Snap hooks must be clasped one after the other, unfastening the latter only when the first has already been hooked to the cable beyond the fixing spike.
Using the cable and the artificial handhold can put your arms under strain. When you find natural handholds remember to push with your feet. Avoid long steps and move forwards with small and safe steps
You get some respite on the easy stretches where you can use just the natural holds and leave the cable only as insurance with the carabiners. 🙂
Once you get up to the summit the satisfaction will be huge!
Easy via ferratas for beginners and families on Lake Garda
There are four via ferrata on Lake Garda: they are easy and perfect for your "first time" on a via ferrata.
Via ferrata del Monte Colodri
Monte Colodri is a via ferrata that I usually recommend as it is easy and suitable also for kids. It is situated in Arco and it was built as a coming back road by the mountaineers on the routes of Monte Colodri.
Here, if you are interested in climbing on the via ferrata of Monte Colodri with a mountain guide.
Sentiero of Scaloni or route of the goats
This round route passes over the small villages of Ceniga and Dro along some partially equipped trails, with metal cables ladders and footbridges. The Sentiero degli Scaloni is perfect to get close to the via ferrata activity.
Via ferrata Rio Sallagoni
The second (this was our first via ferrata) is a via ferrata underneath Castel Drena. It is situated on a small canyon and it is quite spectacular. We liked it so much that we go back there again and again.
Here, if are you interested in trying the via ferrata Rio Sallagoni with a mountain guide
Via ferrata F.Susatti di Cima Capi
Last but not least, there's the queen of Lake Garda: via ferrata F.Susatti in Cima Capi which was the second ferrata we have tried. Easy and nice, very panoramic and quite long. We did it plenty of times, it is worth doing even if only for the panorama.
Here to read how our first time on the via ferrata Cima Capi with an alpine guide went.
Grab your backpack and let's go, on Lake Garda there is something for everyone.
All year round, in every season.