Wind and sun on Lake Garda… and what a wind! A memorable day.
Brenzone sul Garda
05.03.2015
Lake Garda stories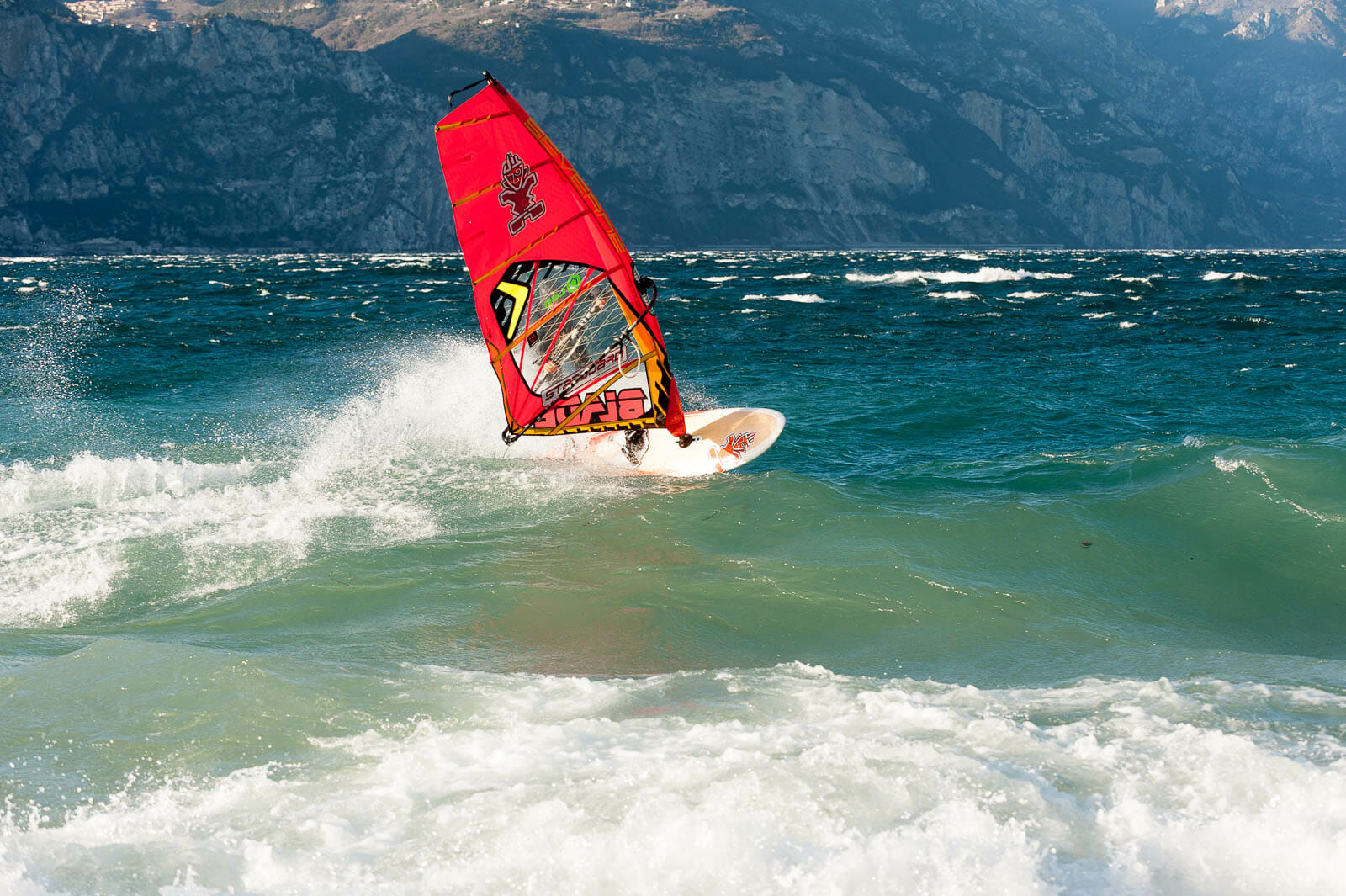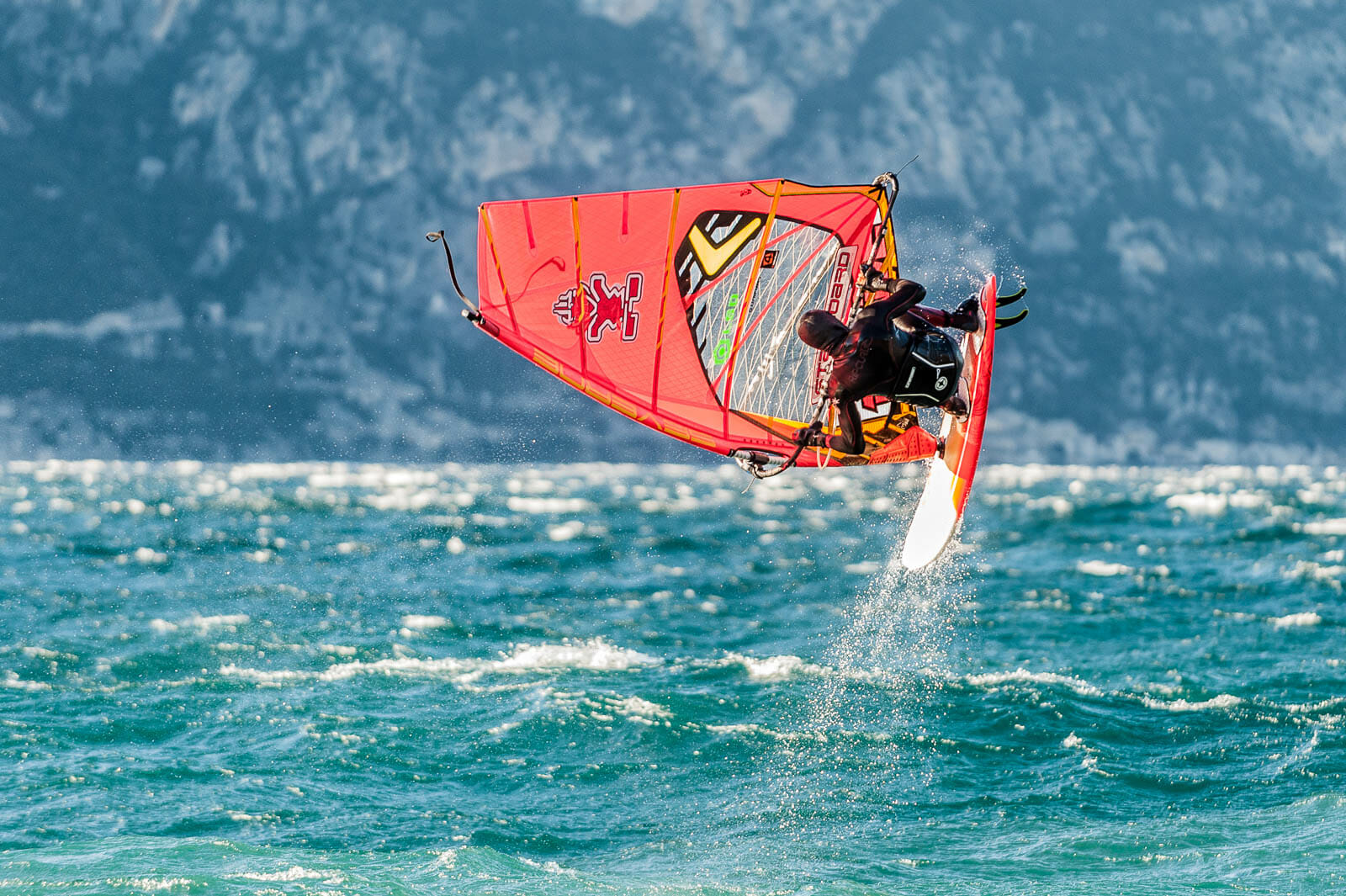 I was driving north and I stopped at Campagnola Beach to look at the Lake.
The water was vapourizing! That means 40 knots of wind or more!
A wind of 40 knots or more is classified as a Gale – force 8-9 on the Beaufort Scale.
Without stopping to think, I rushed back to my Studio and grabbed my equipment. It was a day not to be missed!
I went back to Campagnola beach and then had another thought, that it would be great to photograph the colours of the Lake and the effect of the storm winds from higher up. Meeting my good friend Fiore, we decided to go together to Assenza, in front of the Island.
On the road we met Fabio Calò who was on his way back from windsurfing at Crero (mid eastern coast of Lake Garda)…
For those of you who don't already know Fabio, he is the current Italian champion of Wave Windsurfing, originally from Turin but who has lived on Lake Garda for 10 years.
He is part of the International windsurfing team for such brands as Starboard, Severne, Unifiber, AL360 and LSD Fins, as well as being editor in chief of 4Windsurf and 4Sup, web editor of www.4windsurf.it and www.4sup.it and the organizer of Wave clinic in South Africa and Morocco and Freestyle clinics here on Lake Garda.
Here's his description of the day:
5th March, 2015, a howling wind has hit Lake Garda blowing from north to south with gusts of over 40 knots.
The forecasts were correct: North wind in Garda, Bora on the Adriatic and strong winds over the whole of Italy, all thanks to a low pressure which has settled right over the middle of Italy.
This also means sunshine in the North and bad weather in the South.
With no chance of diving today, I salved my conscience by putting to bed the next issue of 4Windsurf.
The Webcam at Pra, however, was keeping me up to date and I could see that the wind was not getting any weaker as the morning went on, in fact it was strengthening. At about 2 in the afternoon, after a few phone calls, I heard that at Desenzano (the south end of Lake Garda) there were WAVES. I decided to get as close to Desenzano as possible!
As I drove down the eastern side of Lake Garda, I went past Alberto's house and my thoughts were with him… I was sure that he was watching me from above.
The Gardesana road was almost empty and the gusts were going faster than my van: nearly the whole Lake was covered in vaporized spray so the gusts must have been 40-45 knots!
When I got to Crero there was only one windsurfer on the water and he was struggling to hold down a 3.3. I decided to put up the 3.7 knowing that I had the Wave in the van, and then to try for the first time in my life my small board on Lake Garda.
The water was 14C but not cold, there was sun, nuclear wind and mast high chop: unbelievable.
After a couple of hours it was time to come off the water and get back to work.
However, on the road home, my phone rang… hey, it was my good friend Angela with Fiore, long-time photographer for the magazine – they had seen me going past on the Garda road and were now at Assenza in front of the Island, taking photos of the Lake.
I was with them straight away.
The wind was even stronger, a real spectacle of Nature.
In ten years of living here, I have never seen anything like this and especially because it was sunny!
Fiore said: "Hey, how about just doing a couple of runs so we can take a few photos?"
Wetsuit back on, 3.7 ready to go and the 77l Wave on the water for another session. Fiore and Angela asked me to make a few moves that they wanted to photograph. You can see the results with your own eyes looking through the Photo Gallery.
A day to remember!