The Race of the Year: it's a huge success for Fraglia Vela Malcesine
Malcesine
15.09.2021
Events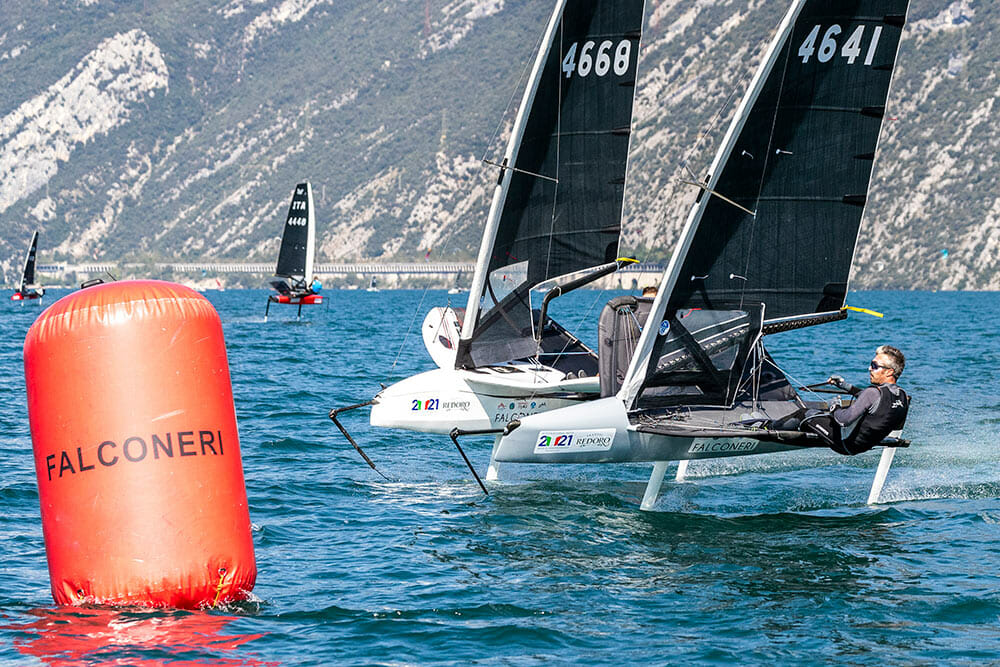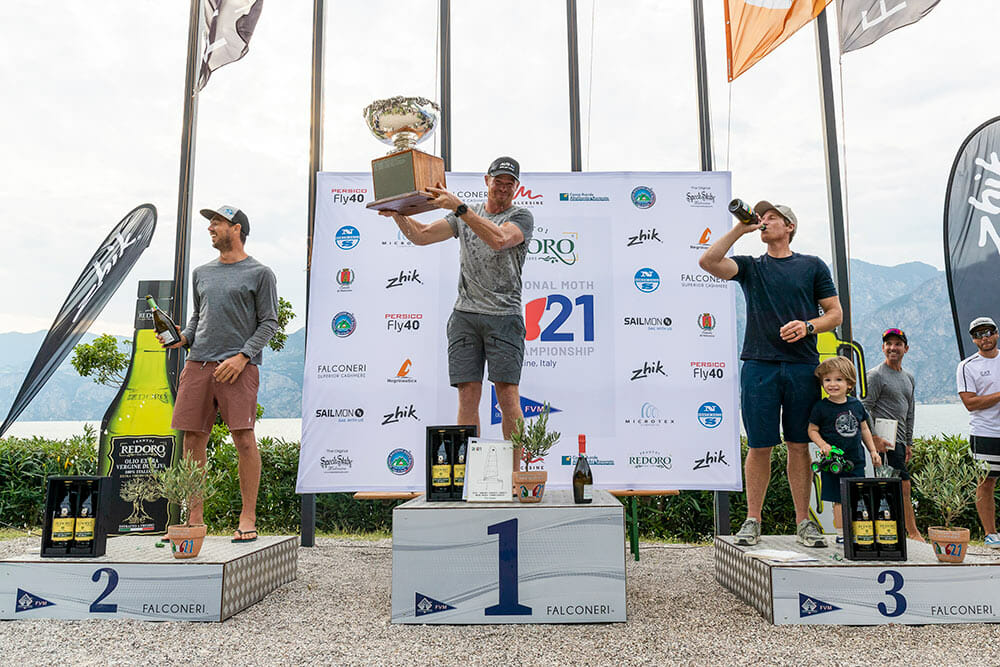 More than 140 Moths competed between the 1st and 7th of September in the Malcesine waters to be crowned champion of this class. The Moth World Championships "Redoro Frantoi Veneti" was organized by the Fraglia Vela Malcesine and was the most important regatta this year in Italy.
The title remains in Australia with Tom Slingsby who got a first in 13 of the 14 races that took place. Great results also from participating Italians with Francesco "Checco" Bruni, Ruggero Tita and Simone Salvà in the first ten places. The first woman was Josie Gliddon.
Moth Worlds Podium
On the top step we find Tom Slingsby, Olympic Champion at London in 2021, winner of the last series and staying in Malcesine for the last two months.
In silver position was fellow Australian and sparring partner, Iain Jensen, Olympic Champion in 49er at London in 2021 and third in the Moth Worlds held in Malcesine in 2017.
Completing the podium was British Sailor Paul Goodison, Moth Worlds Champion three times in a row and Olympic Champion in the Laser in Peking in 2008.
There were a record number of women sailors from which 12, Josie Glidden (British) won first woman award. In second place was Jo Aleh (New Zealand) and third went to Franziska Mäge (Germany).
In the Silver fleet, first place went to Philipp Hribarr (Austria), second to Frederik Just Melson (Denmark) and third to Luka Dogan (Croatia).
The Italians
In fifth place was won by Francesco Bruni the Sicilian helm of Luna Rossa in the last America's Cup. Bruni, deputy Champion in the Moth Class in 2018, won the title Moth Worlds Master Class Champion.
Tokyo Olympics Gold medal winner Ruggero Tita finished in 7th place; he has shared 5 important podiums and is clearly competing at high level in the Moth Class too.
Simone Salvà, Fraglia Vela Malcesine athlete, finished in ninth place.
Final Classification
Tom Slingsby, AUS
Iain Jensen, AUS
Paul Goodison, GBR
Kyle Langford, AUS
Francesco Bruni, ITA
Phil Robertson, NZ
Ruggero Tita, ITA
Nathan Outteridge, AUS
Simone Salvà, ITA
Dylan Fletcher, GBR
Full rankings
On the Fraglia Vela Malcesine site you will find all the stories and details of the Moth Worlds 2021 with results, classifications, photos and daily videos.
"It was fantastic to take part in this World Championship at Malcesine. I'm really happy to have been able to defend my title in this fleet of amazing sailors. My sailing went really well, I had good speed, my boat held together well and I saw all this in my results. I'm so pleased to have won in Australia and now in Lake Garda which is my second home."
Tom Slingsby
With a 70 year old history in an amazing location known world-wide for its winds, the Fraglia vela Malcesine was proud to host for the second time the Moth World Championships where we saw a very high standard of sailing and more than 20 Olympic medalists on the start line.