Trekking route to Telegrafo peak along the path CAI651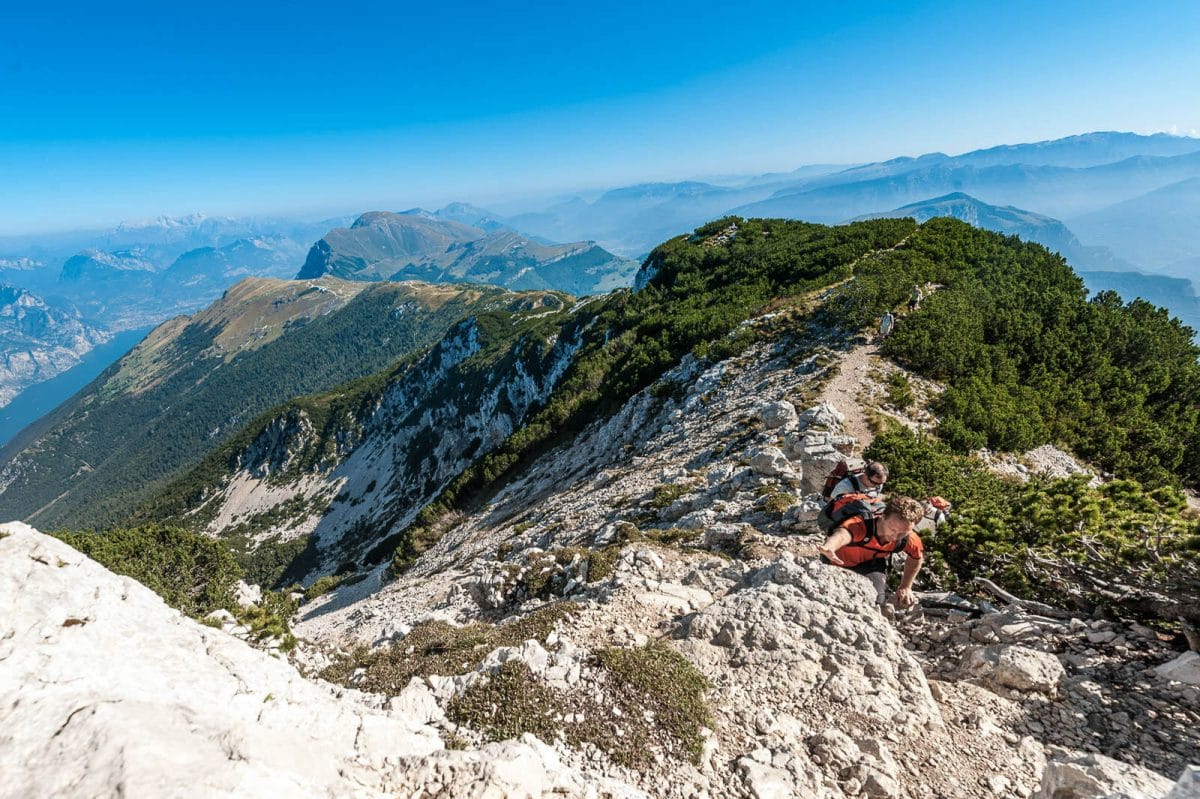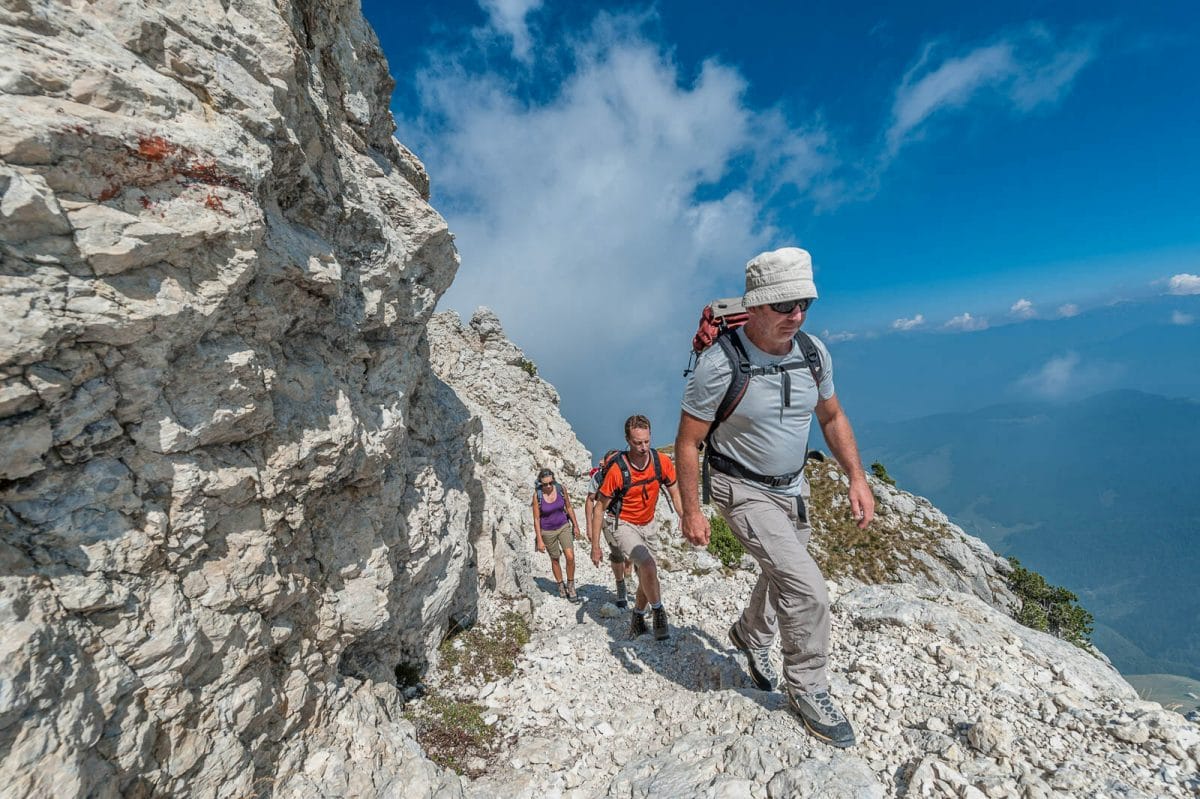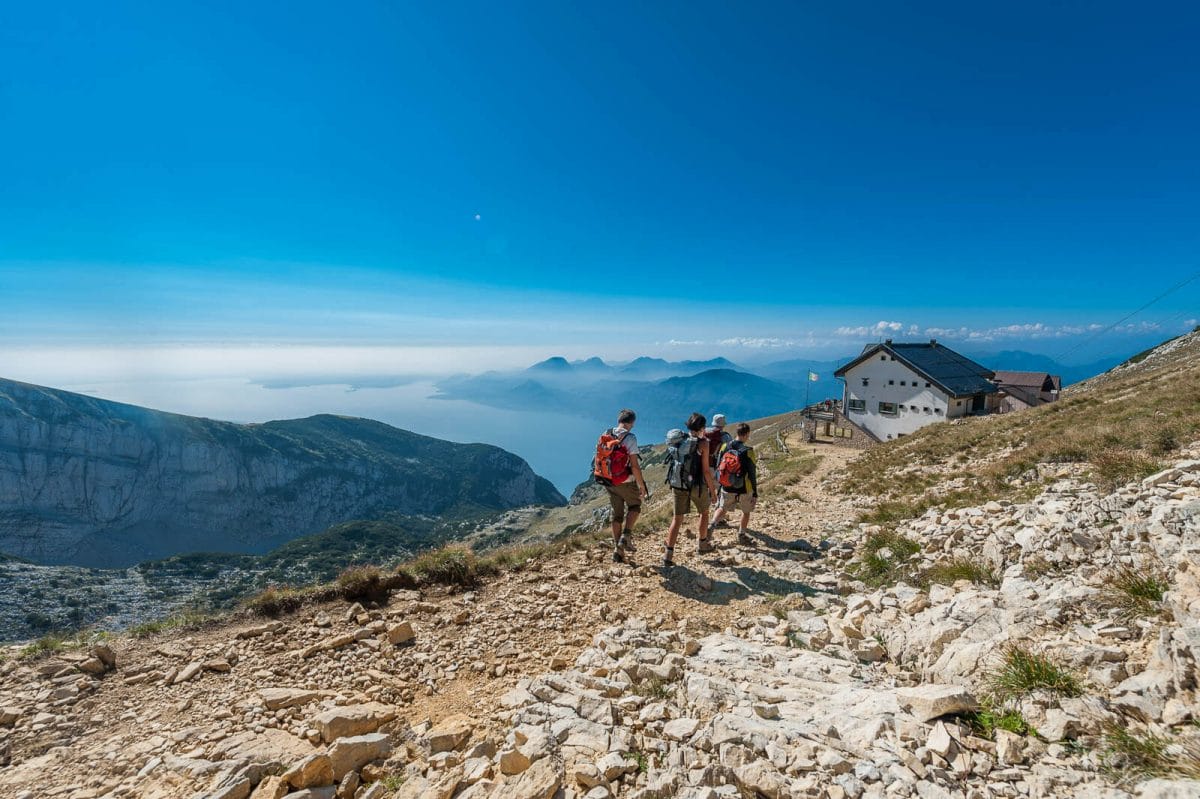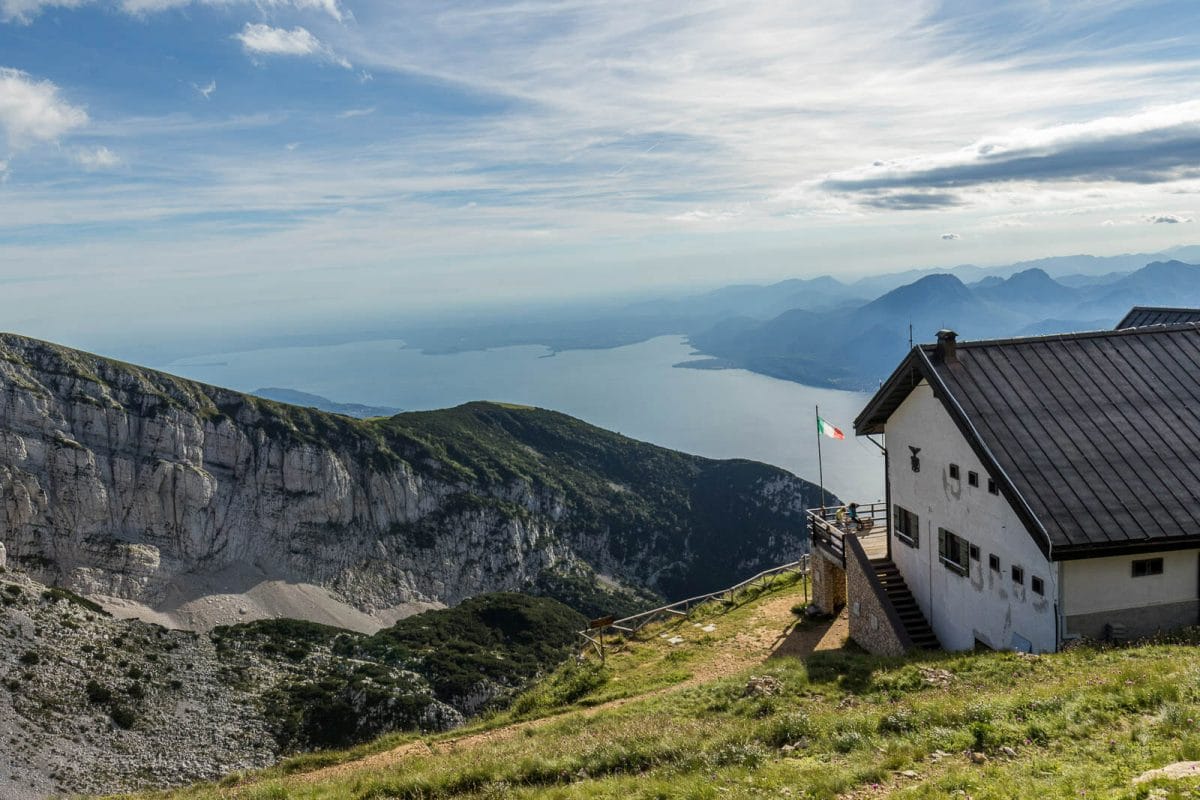 A beautiful walk but difficult and suitable for walkers who are in fairly good training.
The Peaks of Baldo tour follows path CAI 651 and travels over the ridges of the Baldo mountain range.
The walk starts from Località Tratto Spino (1798m) and ends at Punta Telegrafo (2200m) after a connecting walk up and down peaks including Cima Pozzette (2128m), Cima Longino (2180m) and Cima Valdritta (2218m).
Map and GPS track
Details
Technical characteristics

Starting point

Tratto Spino

Endpoint

Punta Telegrafo

Route

Tratto Spino – Cima Pozzette – Cima del Longino – Cima Valdritta – Punta Telegrafo

Starting height

1760m

Highest point

2218m

Altitude – ascent/descent

818m/433m

Distance

9,10 km

Duration

4 hrs

Experience (1 to 5)

5

Landscape (1 to 5)

5

Return track on the same route
Summit tour
Multi-stage tour
Cable car ascent/descent
Insider tip
Panoramic route

From May to November

without snow
Points of interest along this hiking trail
This is probably one of the most beautiful routes of Mount Baldo. The umpteenth must-do, if you are on Lake Garda.
Hard trekking but memorable and wonderful, all taking place high up in the mountains with many varied views.
You will spend the day far away from the most crowded paths discovering an unexpected Mount Baldo.
Crest of Monte Baldo description
From the cable car station on Monte Baldo, go south staying on the path. After a few metres going downhill you will find the first uphill along the "Pozza della Stella" which takes you after 3km to Cima Pozzettte. This path has some great views 360 degrees over Lake Garda and all the surrounding mountain areas.
From Cima Pozzette carry on and you will next come to Cima del Longino. From here the surroundings start to change and you go along the east slopes until you get to Cima Valdritta.
Just before you get to Cima Valdritta, you will find a short piece that is fitted out. Don't worry, it is easy and very short.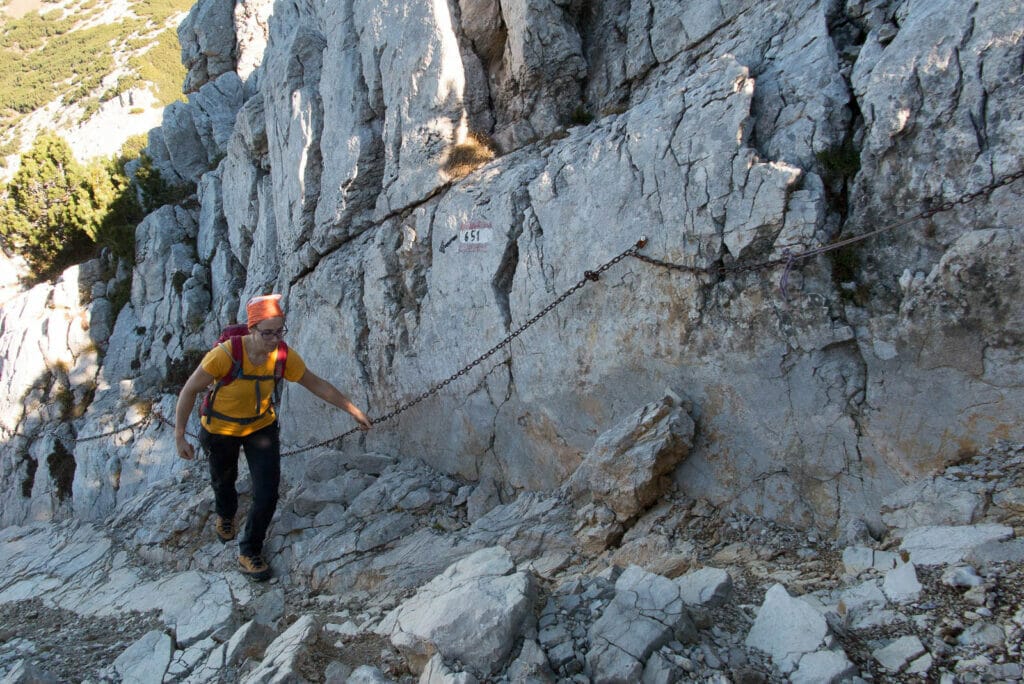 I suggest going up to Cima Valdritta, the highest peak of Mount Baldo. Leave CAI 651 path and take the path on your right to get to the summit in no more than 15 minutes. After a well deserved break, sign the summit book and go back through the same path and keep going towards Telegrafo along path 651.
The hardest part is over.
You can get from Cima Valdritta to the crossroad to Cima Telegrafo in about one hour. This section is easy and you can walk along a comfortable path.
At the crossroad go up on the right and you will get in a few minutes to Gaetano Barana refuge in Telegrafo. Our friends of Equipe Natura have run Telegrafo refuge since 2013. You can find it just below Cima Telegrafo.
It is closed during the winter.
For booking or information call these numbers: 0039 349 1389629 or 0039 045 7731797.

Suggestions for the return trip
Suggestion one
From the Telegrafo Hut, continue on trail 658 over the Camino Pass to the Prada-Costabella lift station.
New opening from Sunday 14 August 2022
Info: prada-costabella.en
Height difference ascent/descent: 197m/533m
Time: approx. 1 hour
From Prada to Malcesine:
Suggestion two
Coming back by Forcella Valdritta.
Come back on path 651 until the fork in the path showing Piombi (path no. 5). From here, go downhill until you reach San Michele, the half way station of the Malcesine-Monte Baldo cable car.
This route is very beautiful but quite steep with a drop of 1800, and in some places there are some sheer sides to the walk. This excursion is not recommended if you have knee problems.
Drop: ca 1800 m
Time: + ca 5 hrs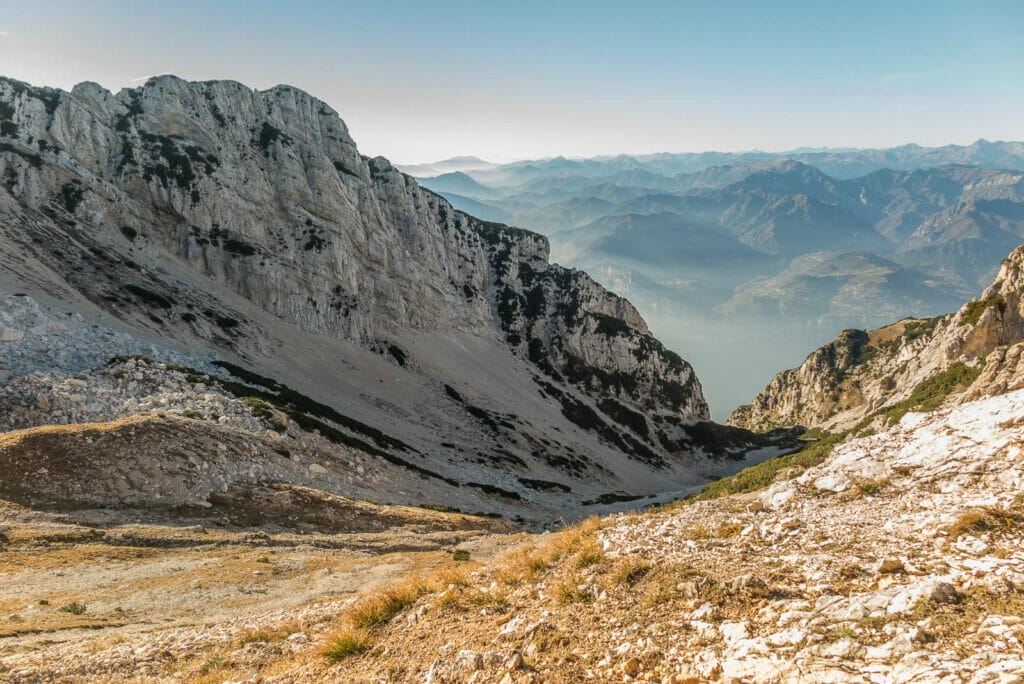 Here you can find our autumn tour pictures, we came back along forcella Valdritta.
Suggestion three
The road from Val Trovai / Punta Veleno
From the Rifugio, go downhill on path 654.
Drop: ca 1000m
Time: + ca 3,5 hrs
Leave your car here the day before; otherwise, book a taxi or shuttle service.
Suggestion four
From the Rifugio, head downhill on path 654 until you reach Brenzone.
When you get to the road for Punta Veleno, head down a short tarmac path and follow signs for Malga Zovel/Sommavilla.
Drop: 2100m
Time: + ca 5,5 hrs
Suggestion five
Go back the way you came to the top station of the Malcesine/Monte Baldo cable car.
Our suggestions
On very hot days, as the path going on from here is very exposed, we suggest that you leave early in the morning.
Leaving early in the morning will be beautifully peaceful and you have more chance of seeing some Chamois that are common to this area.
Stop for one night at the refuge, it is so enjoyable. If you wish to sleep at the refuge you should book in advance.
Crest of Monte Baldo during the winter
It is not suitable to be undertaken when there is snow on the mountains.
Shelters, huts or bivouacs along the trail
How to reach the starting point of the trail
The path starts at the top station of the cable car.
Click here to see rates, timetables and opening times.
Tel. +39 045 7400206
Parking
Public transport
None
Safety information
Leave early in the morning and pay particular attention to weather conditions
Take lots of liquid with you especially in the summer on hot days. This route takes you over the Monte Baldo Crest which is fairly exposed and unshaded. There are no refuge nor drinking fountain along the track