Difficult tour with steep ascent and challenging descent through path 654
Text
Davide Fambri
Mountain bike, ski touring and paragliding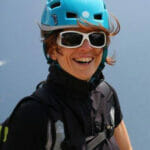 Foto
Angela Trawoeger
Creator, photographer and content manager
Due to its challenging ascents and descents, it is an extremely tough route and we suggest you to use a dual shock absorber xc bike. Completing this route will give your self esteem a huge boost!
Map and GPS-Track
Details
Technical characteristics

Starting point

Magugnano

Endpoint

Magugnano

Route

Magugnano – Boccino – Castello – Zignago – Punta Veleno – Malga Zovel – Sentiero 654 – Sommavilla – Magugnano

Starting height

90m

Highest point

980m

Altitude – ascent/descent

1420m/1316m

Distance

14,7 km

Duration

2,5 hrs

Difficulty

difficult

Technical difficulty (1 to 5)

4

Physical training (1 to 5)

4

Experience (1 to 5)

4

Landscape (1 to 5)

4

All year over

without snow
Points of interest along this bike trail
The ascent of Punta Veleno is extremely hard but rewarding and takes its name from the old chief of Italy Bike Tour Vincenzo Torriani from the 70's.
Bikers such as Basso, Cunego, Kreuziger, Di Luca, Pozzovivo, Scarponi, Rujano, Rolland, Gadret use to define Punta Veleno as "extremely tough", "poisonous", "the hardest ascent ever done", comparing it to Zoncolan.
Despite all that, try to take a look around because there are lots of panoramic views to be enjoyed along your ups and downs.
Tour description
From the center of Magugnano head north on the Gardesana road and just after the bus stop turn right uphill and follow
indications for Punta Veleno.
Once you reach Castello's town square keep going ahead on a slight descent and prepare your strength to enter Punta Veleno on the right.
Now save your breath and push on your pedals along this seemingly endless ascent which presents, from km 2 to km 8, an average slope of 14,6% raising up to 20% in steepest points.
At 830m, when the road becomes a bit flatter, you will find a small wooden gate and a trail in a big field. Follow it and find yourself under Alm Zovel.
Thank goodness, the pain is over and the downhill starts. Not a piece of cake but suitable for every mid experienced mtb biker as you will fly most of the time along a quite steep muletrack.
Located left in the middle of the field, a pole leads you to the entrance of trail 654 where you will find indications for Sommavilla.
Follow the trail through the wood, first on dirt then over plenty of small rocks: the further ahead you go, the steeper the descent becomes until ending on a muletrack until you reach the center of Sommavilla.
Turn left and follow the tarmac road which brings you back to Magugnano through the small hamlets of Castello and Boccino.
Variant
None
Our suggestions
Bring lot of water and start early in the morning on hot summer days. The ascent is tough enough itself, don't get in trouble facing it under the sun!
The tour during the winter
It is possible to do this route all year long.
Shelters, huts or bivouacs along the trail
None
How to reach the starting point of the trail
In Magugnano.
Parking
In Magugnano
Public transport
From Torbole or Riva del Garda take a bus travelling south in the direction of Peschiera/Verona.
From Peschiera or Verona take a bus travelling north in the direction of Riva del Garda.