A panoramic medium difficulty route along Malcesine hills
Text
Matteo Facchinetti
Mountain bike, trekking and snowboard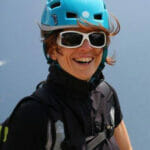 Photo
Angela Trawoeger
Creator, photographer and content manager
A nice and varied all mountain bike route, perfect for training, which takes you to Malcesine via San Michele and Paier.
Do it if you need to take a break for a few hours.
The route is of medium difficulty and over ground that is in parts tarmac, mule track, woodland path and loose stone.
Map and GPS Track
Details
Technical characteristics

Starting point

Malcesine

Endpoint

Malcesine

Route

Malcesine – Campiano – San Michele – Campiano – Paier – Malcesine

Starting height

90m

Highest point

580m

Altitude – ascent/descent

552m/557m

Distance

8,3km

Duration

1,5 hrs

Difficulty

medium

Technical difficulty (1 to 5)

2

Physical training (1 to 5)

3

Experience (1 to 5)

3

Landscape (1 to 5)

3
Points of interest along this bike trail
There are beautiful views over Lake Garda from various points.
Tour description
Form the Monte Baldo cable car station in Malcesine, head north on the Navene Vecchia road and, in Loc. Campo, turn right onto the Strada Panoramica. Go uphill for about 5km until you get to Loc. Campiano.
From here take a left turn uphill to reach the half way station of the cable car at San Michele. This last road is hard work but short – it goes up 250m in less than 2km.
Go on uphill past the Cable Car station and then take the path that goes downhill to the right, signed to San Maggiore. You leave the tarmac road and take a rough track to the start of the woods.
When you reach the small church of San Michele you will find the start of the Health Walk – take the higher of these two paths. The lower path is shorter but much harder work.
When you come out of the woods, you must turn right a few metres before the end of the path. When you get to the wayside shrine, at the fork in the road, carry on going downhill keeping right.
At Campiano, when you are on the Panoramic Road, go downhill on the right and, at the end of the first long descent, turn left towards Paier until you find the old mule path which will take you down into Malcesine.
Variant
None. This route can not be done the other way round.
Our suggestions
The tour during the winter
The tour is rideable all year round.
Shelters, huts or bivouacs along the trail
There aren't any refuges or bivouacs.
There's a fountain for water provision in località Campiano.
How to reach the starting point of the trail
The path starts in Malcesine.
Parking
In Malcesine.
Here you have the list of the parking lots located in the center of Malcesine.
Public transport
From Torbole or Riva del Garda take a bus travelling south in the direction of Peschiera/Verona.
From Peschiera or Verona take a bus travelling north in the direction of Riva del Garda.