Climbing at Lake Garda in a shady and not very popular canyon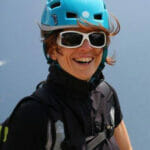 Photo and text
Angela Trawoeger
Creator, photographer and content manager
The crag Valle dei Molini is found near Cassone to the south of Malcesine.
You climb inside a canyon which has its own microclimate. The rock face is very worn by the effect of water infiltration which has shaped holes and canals. The rock is limestone and the faces are fairly steep.
You should only make this climb in good weather. It is perfect in the summer because the sun never reaches the valley.
In 2012 the climbs have been cleaned and the ironwork redone by the Ma.Rock Association. Some routes have been lengthened and the climbing grades upped. Due to the Association's work, the quality of the climbs and their maintenance has greatly improved.
The valley is very beautiful and quiet but not very popular, it means that the approach path and the routes can be a bit dirty.
Details
Type of wall

slightly vertical

Type of climbing

'resistance' climbs over canals and holes

Type of route

single pitch

Routes

9 routes from 6a+ to 7A

Suggested rope lenght

60/70m

Bolt quality

very good

Exposure

north

Altitude

250m

Equipped by

Climb Association Ma.Rock

Parking

5/10 cars

Approach time

20 minutes
How to reach the crag
Coming to Cassone from Malcesine, park at the tennis courts and take the road going uphill on the left and, at the "climbing area" notice, turn left into the canyon below the path and walk up through it for 8 to 10 minutes. The 9 climbs are on your left.
Parking
In Cassone