The forest, the huts and the old mule path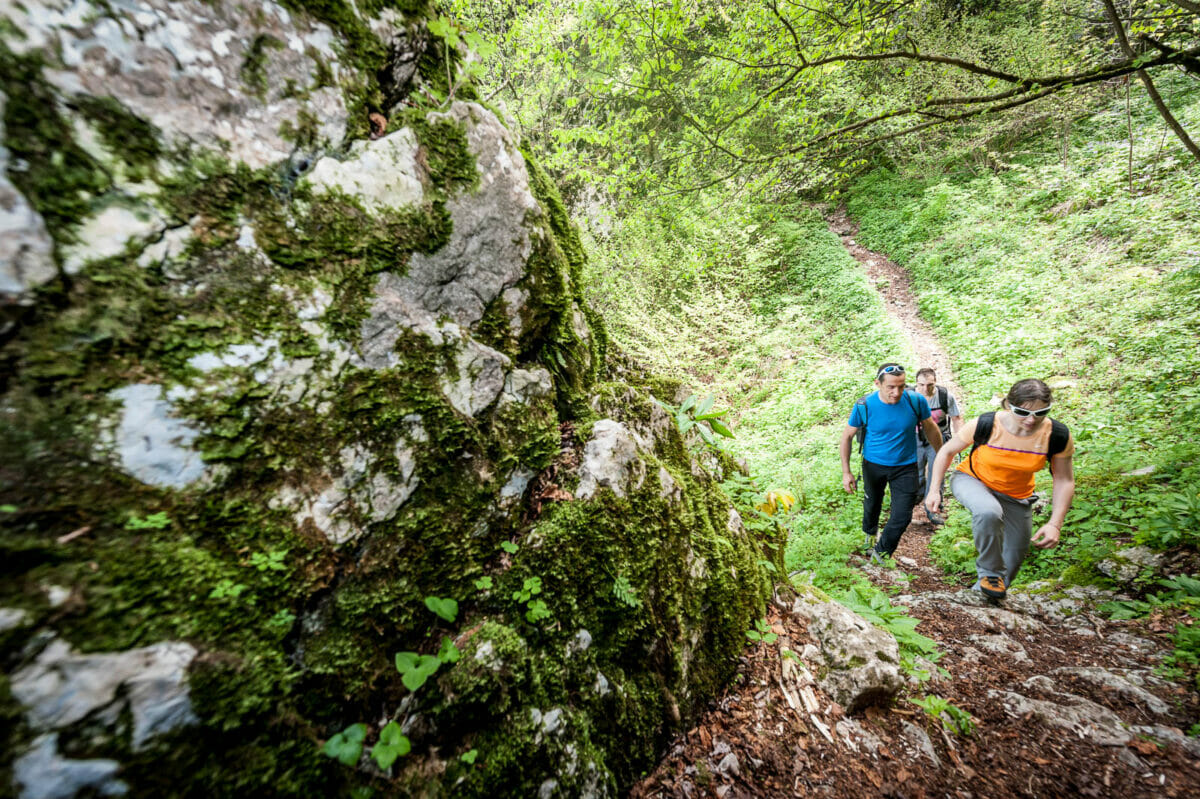 This is a beautiful path that rises along route 30 to the south of Val Torrente, along the Azzaga woods, goes past Malga Brione then across Valle Mezzana where it joins route 654 and finally gets to Malga Zovel at 980m a.s.l.
From here you descend along an old mule path which brings you back to Cassone where you started from.
Map and GPS Track
Details
Technical characteristics

Starting point

Cassone

Endpoint

Cassone

Route

Cassone – Malga Brione – Malga Zovel – Cassone

Starting height

102m

Highest point

1044m

Altitude – ascent/descent

1333m/1339m

Distance

10km

Duration

5 hrs

Difficulty

medium

Technical difficulty (1 to 5)

2

Physical training (1 to 5)

3

CAI (Italian Alpine Club) difficulty scale

Experience (1 to 5)

4

Landscape (1 to 5)

3

All year over

without snow
Points of interest along this hiking trail
The initial effort you put into this walk is paid back by the beautiful tract through the Valle Mezzana woods. Along the path there are some breathtaking views across Lake Garda and over Monte Baldo
Tour description
You start this walk from the football pitch car park in Cassone taking the uphill path. After a few metres, at the tennis courts, you take the left path going uphill which starts on a tarmac path.
Then you go across the fields until you get to an old mule track. Follow the signs to Malga Zovel on route 654.
After about 1.5km, at the fork in the path, go left and go along route 30. For the first few metres, the woods are very dense. Carry on uphill through the woods for about 3km with a rise of about 800m.
Just before you leave the woods there is a wonderful panoramic view over Garda and Val Torrente.
Go on out of the woods up a gentle uphill incline and then start to go downhill first towards Malga Brione and then across Valle Mezzana until you get to the first corner of the tarmac road of Punta Veleno.
From here you go down this road for two more corners and on your right you find a rough road which will take you to the grassy terrace of the Malga Zovel with more amazing views.
If you make your way back to the tarmac road again you can carry on down from Punta Veleno to another path on your right along a meadow signed to Sommavilla.
After a while you will see a horizontal striped sign on your left indicating route 654.
This is where your descent starts along a mule track and, in 3km, will bring you back to the starting crossroads of routes 30 and 654.
Variant
This walk can be done the other way round.
Our suggestions
The route is fairly demanding at the start where the average rise of the path is 30% and some stretches are over loose rocks. We do not recommend you to do this walk in the reverse direction t is much safer this way round.
If you are lucky and go quietly, you may well see some Chamois in these woods
The tour during the winter
This walk can be done all year round with no snow.
Shelters, huts or bivouacs along the trail
None.
How to reach the starting point of the trail
Cassone, tennis place.
Parking
At the tennis place.
Public transport
The bus stop is situated on the main street (Via Gardesana).
From Torbole or Riva del Garda take a bus travelling south in the direction of Peschiera/Verona.
From Peschiera or Verona take a bus travelling north in the direction of Riva del Garda.