A medium-difficult panoramic route perfect for training along Castelletto, Torri, and Albisano
A beautiful, medium-difficult route, 30km long and ideal for road bikes. You leave from San Zeno di Montagna and drop down towards Lake Garda. You follow the lake south on the Gardesana road and rise up to San Zeno again via Albisano.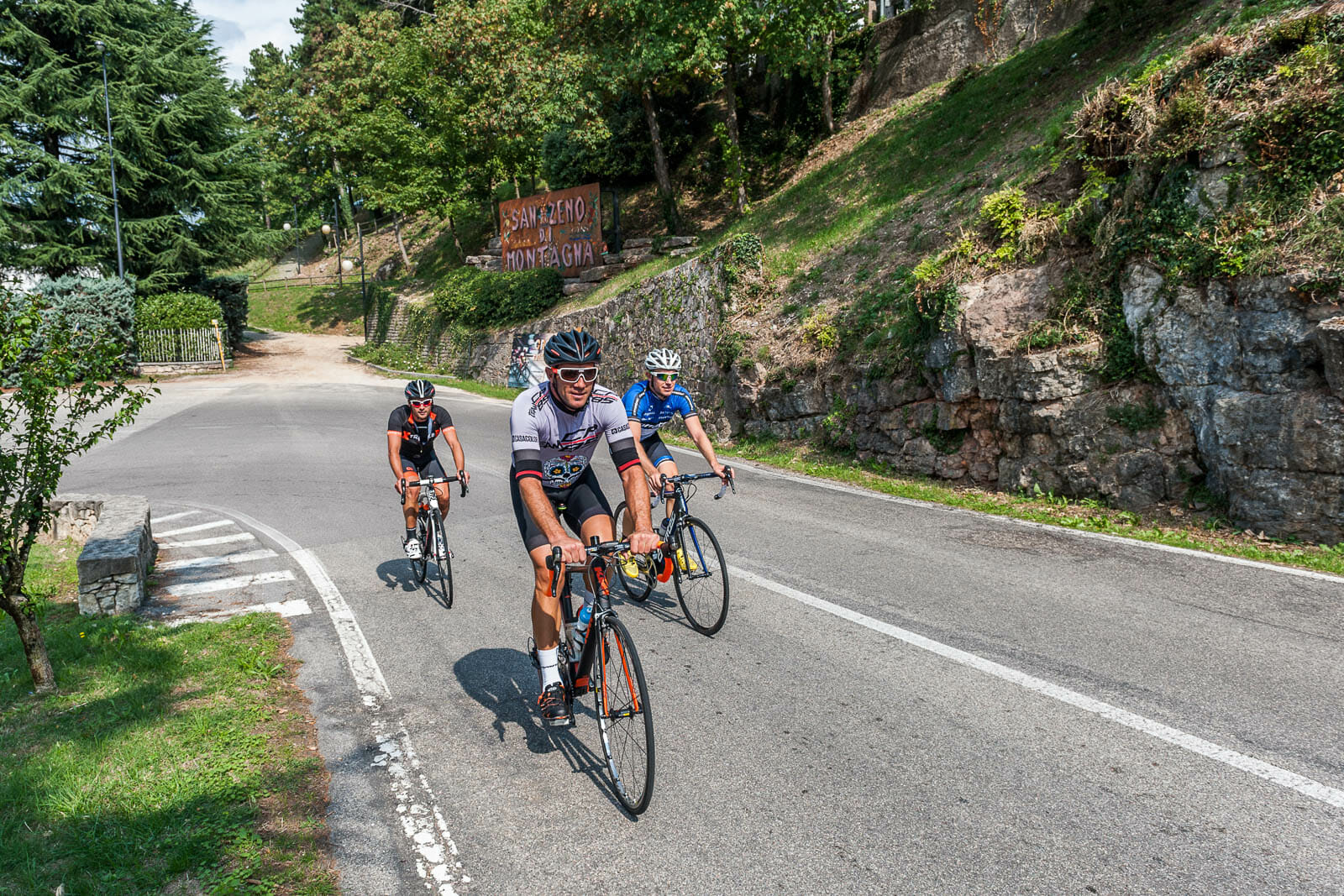 Map and GPS track
Details
Technical characteristics

Starting point

San Zeno di Montagna

Endpoint

San Zeno di Montagna

Route

San Zeno – Biaza – Castelletto di Brenzone – Pai – Torri del Benaco – Albisano – San Zeno

Starting height

680m

Highest point

680m

Altitude – ascent/descent

648m/644m

Distance

30km

Duration

2 hrs

Difficulty

medium

Technical difficulty (1 to 5)

2

Physical training (1 to 5)

3

Experience (1 to 5)

2

Experience (1 to 5)

3

Round tour
Panoramic route

All year round

without snow
Points of interest along this bike trail
This route has some ascents that are perfect training for road bikers where the only heavy road traffic is between Castelletto di Brenzone and Torri del Benaco. You will find some wonderful panoramic views over Lake Garda and Monte Baldo during almost the whole ride.
Tour description
Leaving from San Zeno di Montagna, go north and immediately after you have left the town you will find the descent which takes you to the Lake in 5km via Fasse and Biaza until you get to the Gardesana Lake Road just to the south of Castelletto di Brenzone.
Here you go left, towards south, on the state road going through Pai until you get to Torri del Benaco.
At the traffic lights, go left and start to go up the hill following signs to Albisano. This is a lovely uphill without very steep tracts. When you get to the roundabout, take the second exit, go through the small village of Albisano and carry on uphill towards San Zeno di Montagna.
Variant
This itinerary is possible in the other direction to but the ascent from Castelletto di Brenzone/Biaza towards San Zeno di Montagna is much steeper and more difficult than that up from Torri/Albisano to San Zeno di Montagna.
You can vary this route by leaving from any of the Lake Garda villages instead of San Zeno di Montagna. Go along the Gardesana Road and then up and down back to the Gardesana.
— From Malcesine and Torbole: go south on the Gardesana road to Torri del Benaco and follow signs uphill towards Albisano/San Zeno.
From Malcesine the route is +30km and from Torbole +60km round trip.
If you want to carry on cycling when you have finished this route, you can carry on up to Prada Alta and then return to San Zeno down the same road when you reach the chair lift. To find this road, go north through San Zeno to the end of the village. After Contrada Castello on your right and before Contrada Laguna, you will find the road to Prada Alta. When you get to Prada Alta we recommend that you go back to San Zeno by the same route: if you carry on on the Punta Veleno road you will find some very steep and dangerous downhill stretches.
This route takes you back to Lake Garda at Castello di Brenzone Sul Garda.
Our suggestions
In the summer and during High Season, the Gardesana road is very busy: be very careful as you cycle along it and/or leave early to avoid times of heavy traffic
This is a great route to do that will give you some excellent road bike training
When you get to Albisano, we recommend that you go to the terrace with panoramic views in front of the church – you can see most of Lake Garda from here
The tour during the winter
As this route doesn't go up to the snow line, you can do this route all year round.
Shelters, huts or bivouacs along the trail
There are no shelters, huts or bivouacs along the route but you will find bars and restaurants along the route.
How to reach the starting point of the trail
This route starts from the centre of San Zeno di Montagna, from the Church Car Park.
Parking
At the church.
Public transport