Enduro on Naole's crest
Text
Davide Fambri
Mountain bike, ski touring and paragliding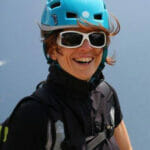 Photo
Angela Trawoeger
Creator, photographer and content manager
A very nice all-round tour suitable for all mountain or enduro bikes in which you will find dirt tracks but not too steep or technical uphill, followed by exciting descents along flowing single trails, with some difficult passages, white roads and dislodged rocks, all surrounded by amazing views over Lake Garda and Monte Baldo.
An unforgettable welcome awaits you at Refuge Chierego, on the top of Monte Baldo.
Map and GPS track
Details
Technical characteristics

Starting point

San Zeno di Montagna

Endpoint

San Zeno di Montagna

Route

San Zeno – Due Pozze – Rifugio Fiori del Baldo – Rifugio Chierego – Creste di Naole – Malga Zocchi – Malga Monteselli – Malga Zilone – Corrubio – San Zeno

Starting height

600m

Highest point

1883m

Altitude – ascent/descent

1407m/1446m

Distance

34,6 km

Duration

5 hrs

Difficulty

difficult

Technical difficulty (1 to 5)

4

Physical training (1 to 5)

4

Experience (1 to 5)

4

Landscape (1 to 5)

5

Round tour
Summit tour
Panoramic route
Panoramic route

From april to november

without snow
Points of interest along this bike trail
Let's start with the jawdropping view: it deserves a 5 star rating! You will see Monti Lessini, the Appennini and Lake Garda.
Before the downhill starts you should take a look at the old Naole Fort, built between 1905 and 1913, located at 1675mt in Bocchette di Naole.
Tour description
Starting from San Zeno follow the tarmac road which will bring you to Prada with its moderate steepness. Pass by Contrada Prabestema and go on uphill to 920mt altitude where you will take the tarmac road on the right following indications for Refuge Chierego. (On left side you will see an abandoned cottage).
Keep on going up along the tarmac road to the big parking lot in Due Pozze at 1220mt altitude.
Look up and you will see the next part of your tour: located just a few meters under Naole's crests and the tour continues on to Refuge Chierego.
Keep on along the tarmac road on the right (indications Fiori del Baldo, Bocchette di Naole) which become off road next to a big corner going right and then left. Just follow the same white track, with its variable ground, and it will end up in Refuge Fiori del Baldo, next to the old chair lift.
Now it is up to you: having a rest here or moving on to the next Refuge? Be aware that the ascent is more challenging, very steep and over dislodged rocks that will drain your energy and skills but will reward you with an astonishing panoramic view.
After a lunch rest to regain some energy in your legs, let's go down through a steep cutting just on the left of the Refuge, going past Refuge Fiori del Baldo, which you should bypass on the right to take the path on grass leading you to Naole's crests.
You will now find 3 trails but take the middle one, which is the most beautiful. When it starts to go up keep on the left to the bottom of the middle of the valley, to reach Bocchette di Naole where the former Fort is located.
The path goes on in the middle of the valley leaving a small pond on your left and then straight ahead on trail 662 which is fast with some fun and technical parts, until you end up on a white road next to a fountain. Take a right and push your bike up a short but steep tarmac uphill 'til the beginning of trail 51.
Bypass Zocchi Alm from right to left, follow the path on the left, pass through a plain where another pond has to be passed by on the left and than head right along a cut which leads you to another pond. Keep right and reach Monteselli Alm.
Follow the white road on the right and then turn left after the bar; at the end of a short ascent on the right path 51 appears, crossing an open field to Alm Zilone.
Take a right following indications for Corrubio. The trail become rougher with lots of dislodged rocks that ends up in a tarmac road to Corrubio.
Now go back down the same road until you get to San Zeno.
Variant
Easy to shorten the long ascent going to Prada or Due Pozze location by car, which will need to be picked up after.
Our suggestions
Always bring some water to drink. There is no way to find some once you leave a Refuge and there are no wells with drinkable water.
Always bring a jacket with you as the weather may change very rapidly and Naole's crest are exposed to wind.
Try to start as soon as possible to enjoy the tour in a relaxed way and also to avoid doing the ascent in full sun on the hottest days.
Unless you are a pro is possible to find yourself pushing the bike for a small time from Refuge Fiori del Baldo to Refuge Chierego.
You may meet lots of cows during this trail so make sure to close the gates you may need to open along the trail.
The tour during the winter
This route is not possible due to snow.
Shelters, huts or bivouacs along the trail
Alm Traure
Strada di Naole
T. 0039 345 168 7398
Refuge Fiori del Baldo
At Prada
Tel. +39 045 6862477
Refuge Chierego
At Cima Costabella
Tel. +39 045 5117875
How to reach the starting point of the trail
San Zeno next to the church.
Parking
At the church.
Public transport