Easy and panoramic excursion on mount Baldo, lake Garda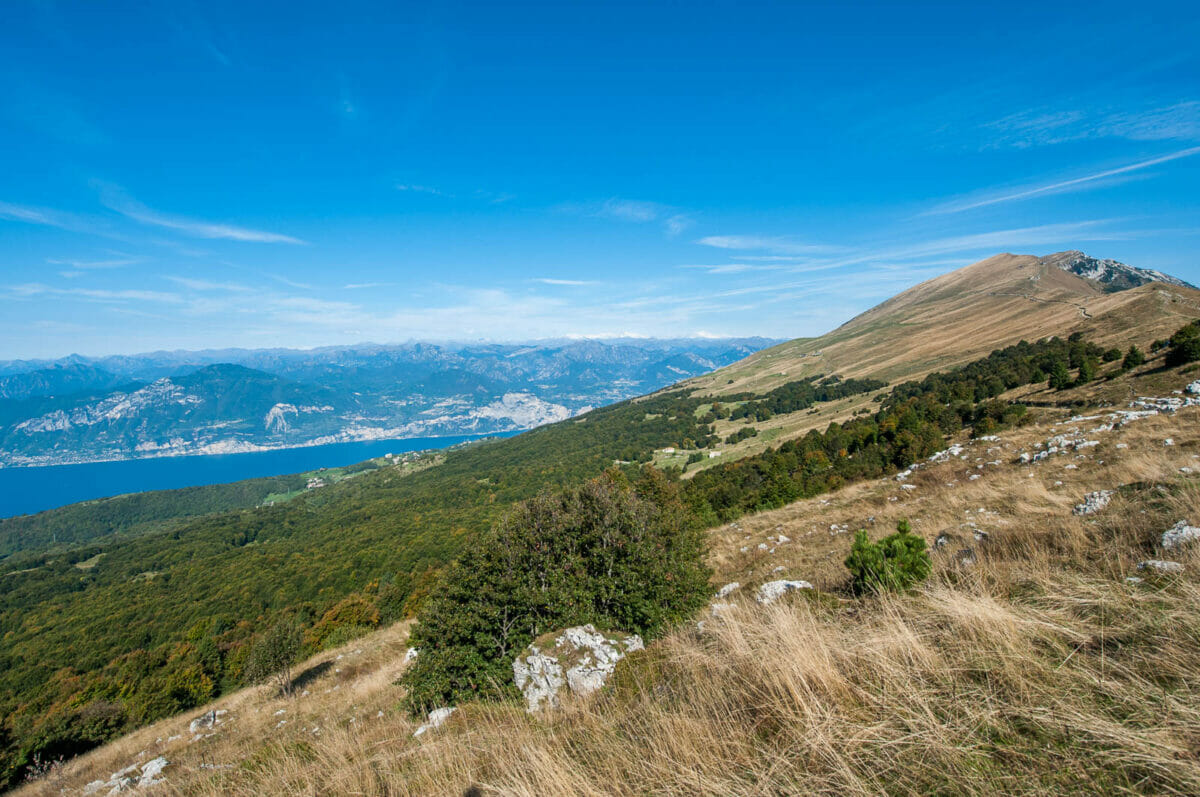 A very nice medium/easy track with smooth up and downhill.
Do it if you need to take a break for a few hours, walking in relaxing and fascinating places.
Map and GPS Track
Details
Technical characteristics

Starting point

Località Due Pozze

Endpoint

Località Due Pozze

Route

Località Due Pozze – Rifugio Fiori del Baldo – Rifugio Chierego – Bocchette di Naole – Cresta di Naole – Località Due Pozze

Starting height

1190m

Highest point

1882m

Altitude – ascent/descent

849m/834m

Distance

14,3 km

Duration

3 hrs

Difficulty

medium to easy

Technical difficulty (1 to 5)

2

Physical training (1 to 5)

2

CAI (Italian Alpine Club) difficulty scale

Experience (1 to 5)

4

Landscape (1 to 5)

5

Round tour
Summit tour
Suitable for families and children
Panoramic route

All year over

without snow
Points of interest along this hiking trail
It's the same story as the bike track: five stars for the view!
Before the downhill starts you should take a look at the old Naole Fort, built between 1905 and 1913, located at 1675mt in Bocchette di Naole.
Lots of cows and horses are pasturing in the nearby fields.
Tour description
From the parking lot located at Due Pozze go up on the right on a concrete road following indications for Refuge Fiori del Baldo, Bocchette di Naole.
Look up and you will see the next part of your tour, located just a few meters under Naole's crests and which continues on to Refuge Chierego.
Keep on following the main path uphill and when the concrete road stops go right on the wide off-road until you arrive under Naole's Crest. Stay on the track going gently uphill, to Refuge Fiori del Baldo located next to the old chair lift.
From there you can go on up to the easily visible Refuge Chierego, always walking on a track just a bit steeper, passing in front of a small church.
After resting at Refuge Chierego you go back to Refuge Fiori del Baldo, bypass it on the right side and carry on on trail 658, covered in soft grass. This takes you straight to Bocchette di Naole.
From there follow the track on the crest with a few soft ups and downs, sometimes over small boulders, never too challenging.
At the end of the crests, follow the high path leading down and left to a small wooden gate positioned there to keep cows in the field. Pass through it and walk along the grassy trail that ends up in a wide track next to a watering place.
Go right staying on the track and, following some up and downhills, you will return to the parking lot in Due Pozze.
Variant
From Bocchette di Naole, with a small detour, you can reach the First World War fort at Naole.
That's a round tour and can be done in reverse as well.
Our suggestions
There are not many signs but the path along the crests is clearly visible and you can easily follow it
Always make sure to close the gates that you may need to open along the trail and mind your steps
The tour during the winter
The route is not possible due to snow.
Shelters, huts or bivouacs along the trail
Refuge Fiori del Baldo
At Prada
Tel. +39 045 6862477
Refuge Chierego
Ai Cima Costabella
Tel. +39 045 5117875
How to reach the starting point of the trail
From San Zeno follow the tarmac road leading to Prada Alta until you find an old abandoned cottage on the left at 921m.a.s.l.
Before the road turns starts going downhill, take the tarmac road on the right side following indications for Refuge Chierego which winds its way up to the big parking lot in Due Pozze.
Parking
Parking lot in Due Pozze
Public transport
None