A medium difficulty route through Monte Baldo huts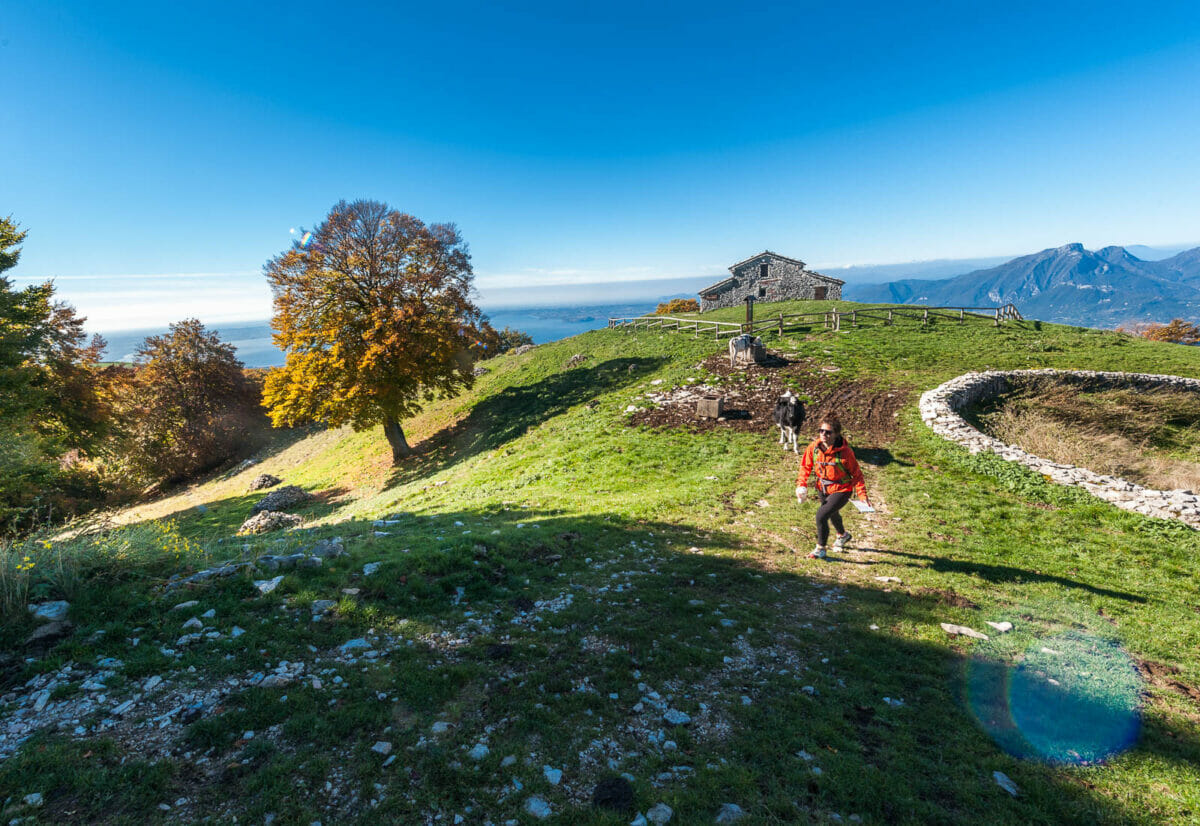 A nice, 13,5 km long medium difficulty route, leading you from Località Lumini to Prada Alta passing through Malga Zilone, Malga Monteselli e Malga Zocchi.
The track is obviously very panoramic and includes different kind of ground.
Map and GPS-Track
Details
Technical characteristics

Starting point
Endpoint

Prada Alta

Route

Lumini – contrada Cà Longa – Fintanorbole di Sopra, Malga Zilone – Malga Zocchi – Malga Monteselli – località Due Pozze – Baito Folesino – Prada Alta

Starting height

703m

Highest point

1300m

Altitude – ascent/descent

984m/663m

Distance

13,5km

Duration

3,5 hrs

Difficulty
Technical difficulty (1 to 5)

2

Physical training (1 to 5)

3

CAI (Italian Alpine Club) difficulty scale

Experience (1 to 5)

3

Landscape (1 to 5)

3

From may to december

without snow
Points of interest along this hiking trail
You will find wonderful views along this track. It is varied, never too crowded and particularly pleasant during the autumn. Fintanorbole and the alpine huts you will meet along the way are all definitely worth seeing!
Tour description
Keep the main road and walk northwards from Località Lumini until Contrada Cà Longa. Turn right and, when you reach the junction, turn right once again to get to Fintanorbole. There you will pass through a private property where the passage is allowed. Keep going up on the right and enter in the wood following carefully the red/white signs until you reach a white wide road.
Carry on walking up to the junction and then turn left until the lamppost. You will see a wide field without any road signs to pass through walking northeasterly, leaving the lamppost on your left. Once you will find the path, you'll reach the wood and immediately afterwards Malga Zilone.
Head eastward, behind the Alpine hut, staying in the right until you get to a wide white road and follow it while going up on the left. Go past the barrier and turn right at the junction, heading for Malga Monteselli.
After the Alpine hut go left uphill, you will find a meadow with a pond, carry on going up, keeping left until you get to Malga Zocchi. From there, rise to a white road, keep on the left side and soon you will arrive in Località due Pozze.
The ascent is over, take the white road downhill on the left heading to Prada, running along the pond. At the first junction, immediately after the pond, turn right and go past the path located in a slightly inclined meadow. Keep walking in the main road and, as you enter in the wood just go ahead until Baito Folesino. There hike down on a mixed path, half concrete and half grass, until you get to a tiny road leading you to the ski lift in Prada-Costabella.
Variant
This route can also be covered conversely.
Our suggestions
Please pay attention to the road signs along the way (there are not so many) and if you can download the gps track.
Always remember to close the gates for the cows.
In Fintanorbole di sopra while passing through the private property, you will meet dogs, hens, rabbits and peacocks. Please respect this area and keep silent as you walk.
The tour during the winter
This route isn't accessible during the winter due to snow.
Shelters, huts or bivouacs along the trail
None
How to reach the starting point of the trail
From San Zeno, driving southward, take the first uphill road on your left and follow the road signs for Lumini.
Parking
Park your car in Lumini.
If it is possible, come with two cars and take the second one to Prada Alta. You should walk on a paved downhill 6 km long road to get from Prada Alta to Lumini, otherwise you could catch the bus (ATV number 170). There are 6 bus rides a day from June to September. Don't forget to check the timetable.