The panoramic half-coast naturalistic route from Tempesta to the Busatte Park in Torbole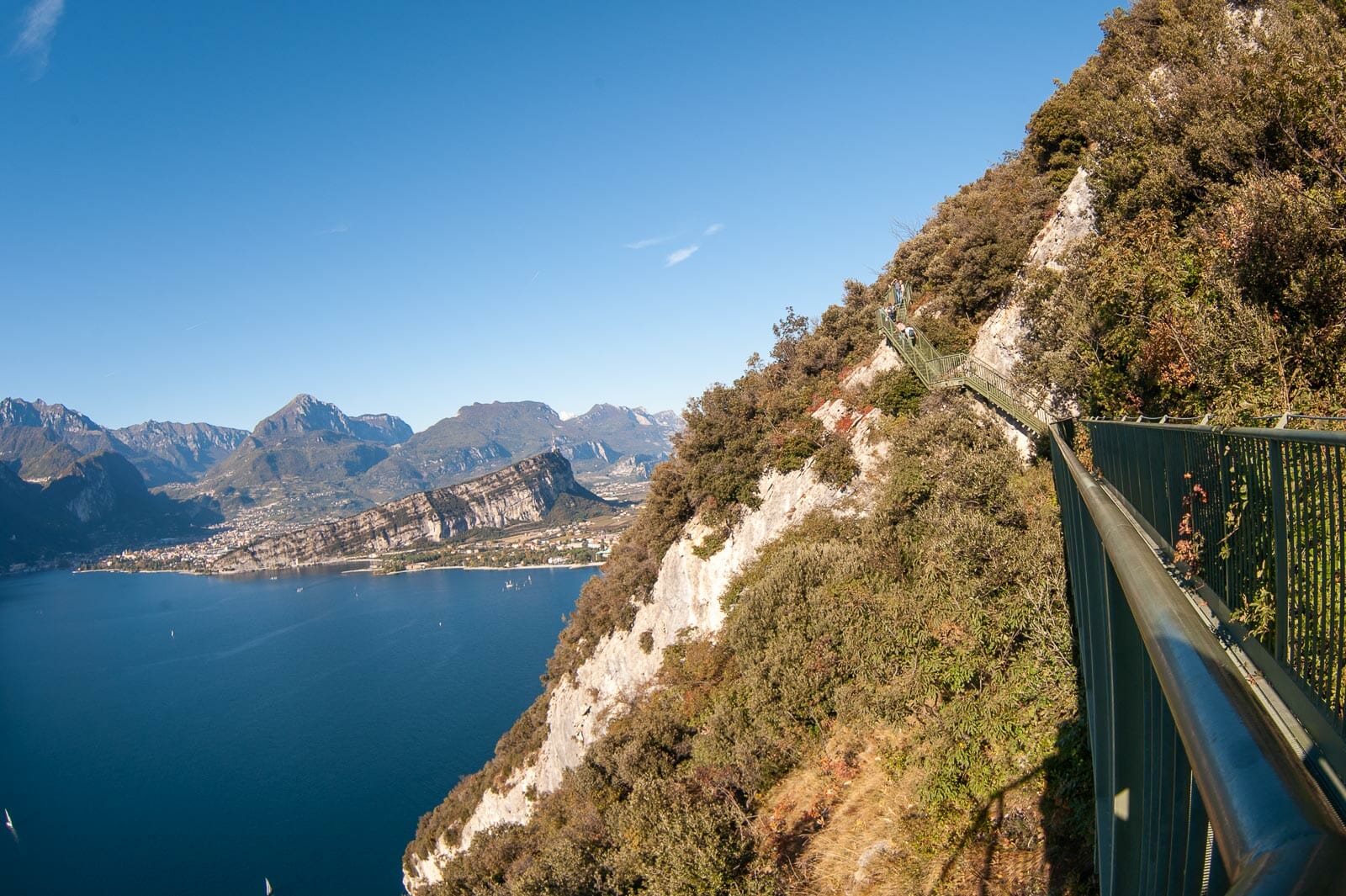 Four kilometres of medium difficulty walking, above the lake, partly using iron stairs of 400 steps in total which are used to cross the Corno di Bo and the Cavra.
An easy and panoramic route, highly recommended if you are around Lake Garda and feel like spending half a day in close contact with nature with a guide describing our magnificent territory.
Map and GPS Track
Details
Technical characteristics

Starting point

Tempesta

Endpoint

Parco delle Busatte

Route

Tempesta – Parco delle Busatte

Starting height

90m

Highest point

272m

Altitude – ascent/descent

382m/289m

Distance

5,2 km

Duration

1,5 hrs

Experience (1 to 5)

5

Landscape (1 to 5)

5

One way tour
Suitable for families and children
Insider tip
Panoramic route
Points of interest along this hiking trail
The path is reserved for walkers only and it is very popular because of its beauty and breath-taking views.
Tour description
The path starts with an uphill section of about 15 minutes which takes you to Varno from where you go downhill along the firebreak towards the start of the iron steps.
The steps are all uphill.
The first ladder has 35 steps and after these you follow the path up to Salto del Corno di Bo where you start the second, longer, set of steps (253 in all). From the top of the ladder you have a wonderful view over the whole lake.
The path then leads you on to the next creek, the Salto della Cavra, via a third ladder of 123 steps. Walking on down for another 20 minutes, you reach the Parco delle Busatte, first using a path which crosses the landslide area and then using the firebreak path.
When you get to Parco delle Busatte you can either walk back again the way you came or you can continue down to Torbole
Variant
This walk can be done the other way round.
Our suggestions
In the summer, this walk is very hot as this side of the mountain is exposed to the sun all day
It is not possible to ride the iron steps on a mountain bike
The tour during the winter
Thanks to the walk being at low level, it can be enjoyed all year round
Shelters, huts or bivouacs along the trail
None.
How to reach the starting point of the trail
Tempesta is situated 7 km to the north of Malcesine at the end of the first straight road after the first long tunnel.
Parking
There is a small car place close to the main street.
Public transport
From Torbole or Riva del Garda take a bus travelling south in the direction of Peschiera/Verona.
From Peschiera or Verona take a bus travelling north in the direction of Riva del Garda.