From Malcesine to Brenzone by mountainbike: the small villages and panoramas
Also with a guide, From 45€ per person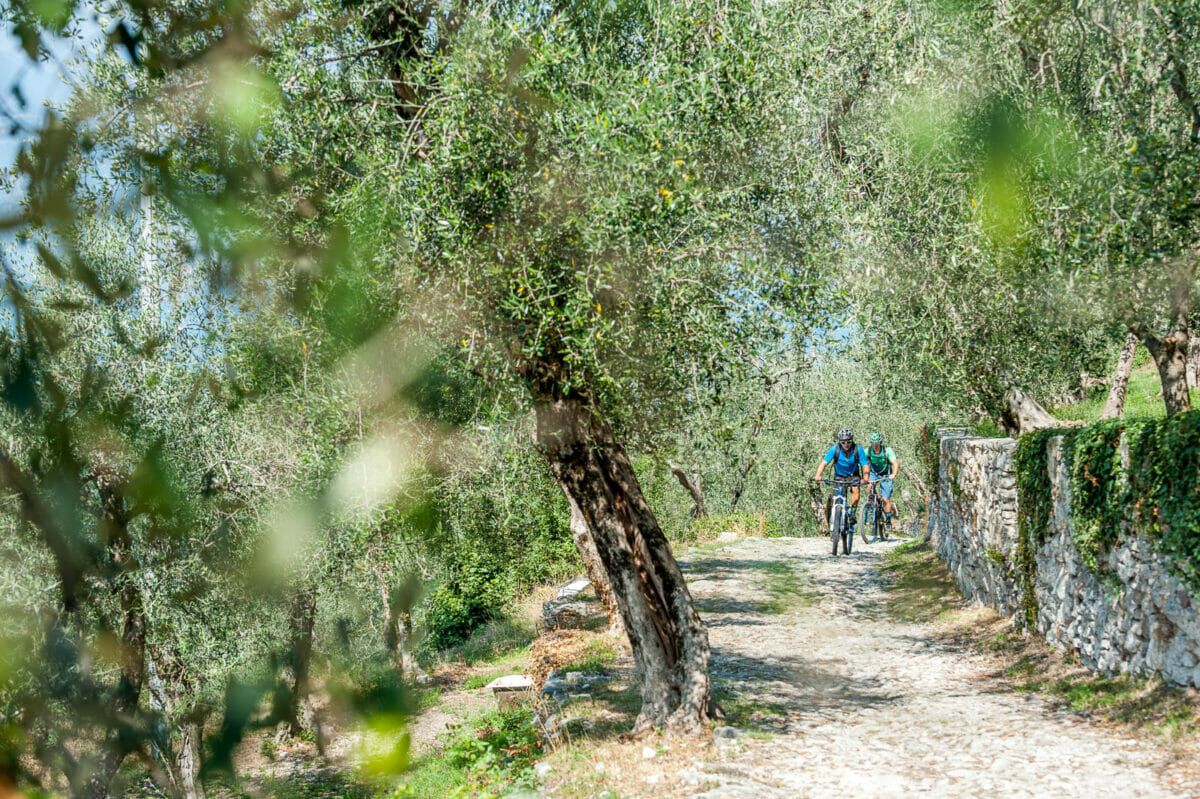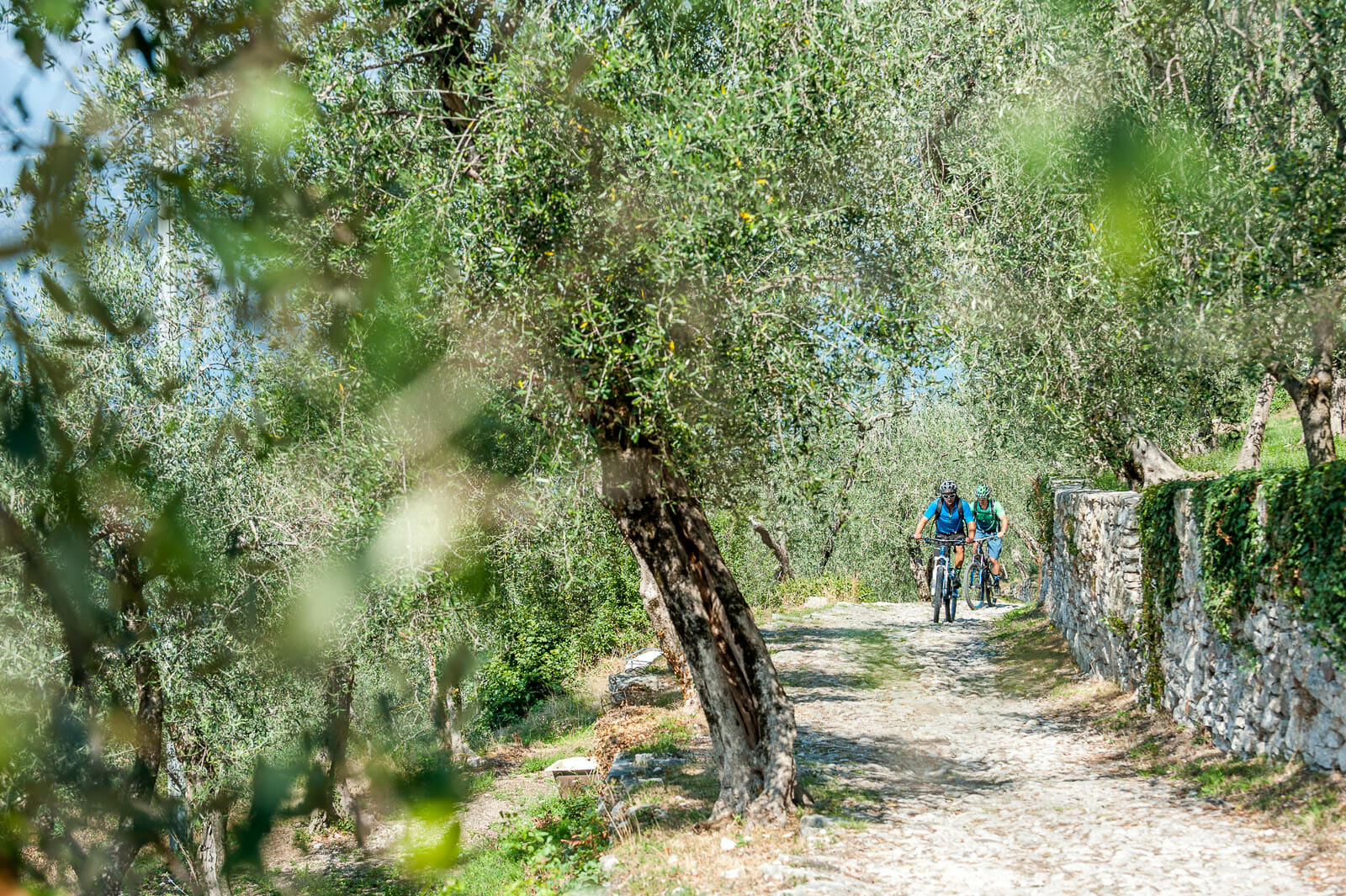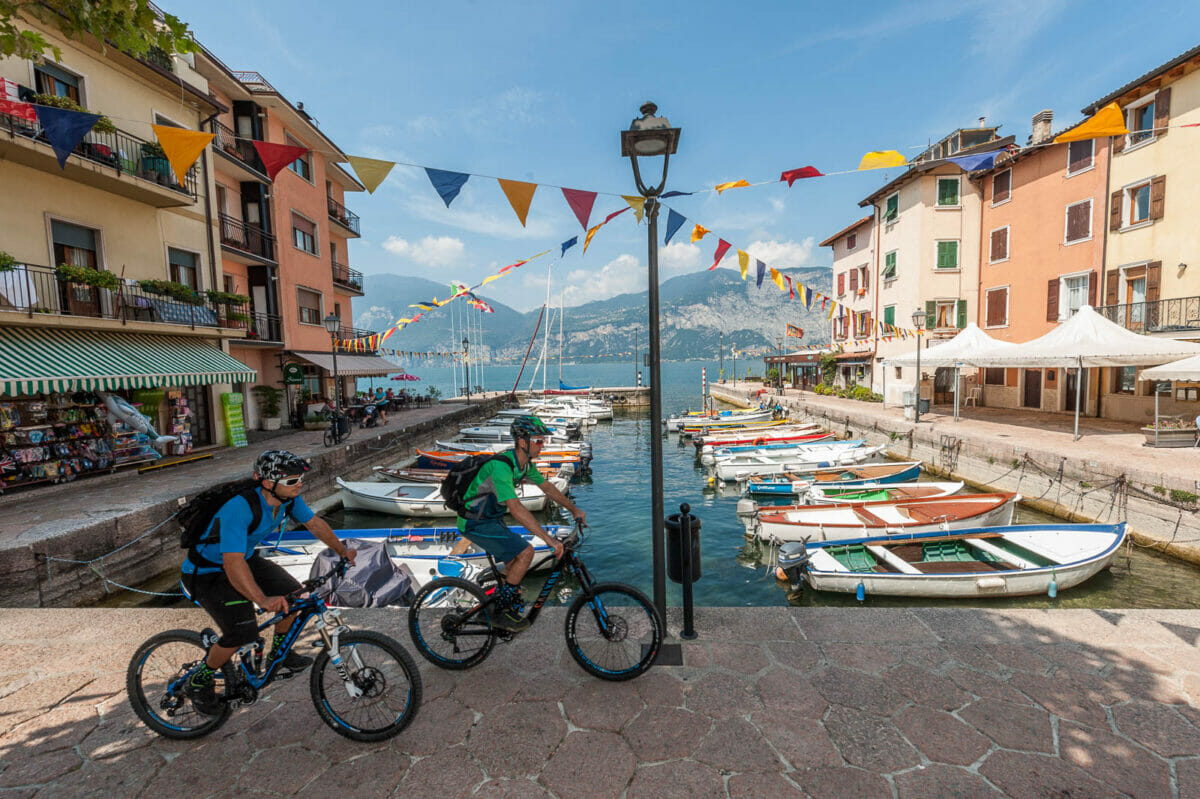 Once on Lake Garda this is a must-do bike tour.
The route is along tarmac roads, paths and mule tracks, with easy climbs and descents apart from one more difficult that takes you uphill from Ca Romana to the hamlet of Campo.
A very nice circular cross-country trail, suitable for everyone.
A ring route which can be done in either direction and can be made longer or shorter depending on what you want to do and your fitness. In this description, we leave from Malcesine but it is a beautiful route to do leaving from Brenzone too.
Maps and GPS Track
Cross-country bike trail to Campo di Brenzone at Lake Garda
Also with a guide From 45€ per person
Details
Technical characteristics

Starting point

Malcesine (or Brenzone)

Endpoint

Malcesine (or Brenzone)

Route

Malcesine – Castello – Campo – Castelletto – Malcesine

Starting height

90m

Highest point

380m

Altitude – ascent/descent

1109m/1102m

Distance

34,5km

Duration

2,5 hrs

Difficulty

medium

Technical difficulty (1 to 5)

2

Physical training (1 to 5)

2

Experience (1 to 5)

4

Landscape (1 to 5)

5

Round tour
Panoramic route
Insider tip

All year over

without snow
Points of interest along this bike trail
It has great views, is good fun and memorable as it takes you through some of the most beautiful old villages in the Brenzone sul Garda area.
Campo is an old burgh surrounded by olive groves where time seems to stand still. Abandoned at the start of the 20th century, today it is inhabited by just one family.
You should visit the romantic chapel of St. Peter in Vincoli.
Tour description
Leaving from Malcesine, you head north, first on the Navene Vecchia road and then on the Strada Panoramica. At Campiano you start the descent towards Dos del Pis which you find on the last hairpin bend descending into Malcesine. Here you turn left and carry on to Val di Sogno.
Go on south to Cassone where you head up into the village up a short steep road. When you get to the Church Square, turn right and carry on to Sommavilla where you get onto route 31 on your left, a mule track with great views in the midst of olive groves.
Carry straight on to Zignano and then Castello. When you arrive in Castello, take the hill on your left just before the church. This takes you through Venzo and on to Boccino keeping left when you get to Ca Romana. From here keep on going uphill to your left on the tarmac road through Campo where we suggest you have a break and make use of the water fountain! You should take a look at the old roman church of St. Peter in Vincoli.
Carry on from here on the path on your left just after the church which will take you through Fasor, Biaza and on to Castelletto.
Dropping down to the Lakeside in Castelletto, head north and you will be back at Malcesine in 11km following the beaches.
Variant
This circular route is 35km long and includes part of the Strada Panoramica at Malcesine – for the less fit, it is possible to miss out that road and cut out 12km distance and 5km of uphill!
This route can be done the other way round.
Our suggestions
If you want to experience the thrill of feeling in another era and you need to unplug from the hectic everyday life, visit Campo
Alternately, if you don't want to do the beach route, you can take public transport back to Malcesine or, turn around and ride the route back retracing the route you used
The tour during the winter
The tour is rideable all year round.
Places to eat and refreshment points

At Campo you will find a drinking fountain.
Along the beach from Castelletto to Malcesine, you will find bars, pizzerias and restaurants.
How to reach the starting point of the trail
Malcesine bus station, on the main street
Parking
In Malcesine.
Here you have the list of the parking lots located in the center of Malcesine:
Public transport
From Torbole or Riva del Garda take a bus travelling south in the direction of Peschiera/Verona.
From Peschiera or Verona take a bus travelling north in the direction of Riva del Garda.
Safety information
In the summer you should pay extra attention when using the Via Gardesana along the lake as it gets very busy.